From our friends at The Find: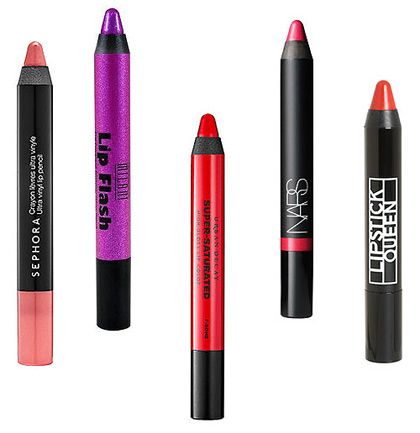 As if I needed something new to obsess over, I've recently developed a big appreciation for glossy lip pencils. There's something so unexpected, fun, and surprising about applying using a pencil and getting rich, shiny, glossy color rather than the waxy finish you'd normally expect from a pencil. Sure, they might not be quite as practical when it comes to actually needing to sharpen these bad boys (glossy color all over your sharpener, plus too much precious product wasted!), but they're still fun to collect and use when they're not making a mess out of your beauty tools! In celebration of these fun lip colors, I've rounded up a few celebrated favorites that pack a three-in-one punch: rich, saturated, lipstick-quality color, high-shine gloss, with the application precision of a pencil. Whether you prefer your lips bold and bright for spring, or like to keep things subtle with soft pinks and peaches this season, get your fill with the best of the best!
From left to right: Sephora Ultra Vinyl Lip Pencil, Milani Lip Flash, Urban Decay Super-Saturated High Gloss Lip Color, Nars Velvet Gloss Lip Pencil, and Lipstick Queen Chinatown Glossy Pencil.
– Alexandra Gambardella