By Alexandra Gambardella, The Find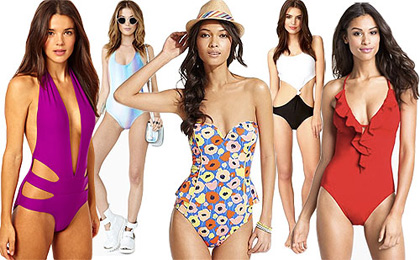 Not all of us had the determination to get in tip-top bikini shape in time for swimsuit season, and even if you did, there are other ways to show off that summer-ready bod than your typical two-piece! This season, I'm all about sexy takes on the one-piece suit – whether or not you've got a "trouble" area to hide when you hit the beach this time around. After all, just because you're leaving more to the imagination doesn't mean you have to look like you're desperately trying to go undercover. Swimsuits should help you flaunt what you've got – not just put everything on display – so I've compiled a few choice last-minute additions to your 2013 swimsuit collection, all under $100! From retro-modern peplum styles to uber-sexy cut-outs and strategically-placed ruffles, these bargain-friendly suits are bound to change everything you thought about one-pieces!
From left to right: ASOS Deep Plunge Cut Out Side Swimsuit, Bambam Color Spectrum Swimsuit (from Nasty Gal), Bar III Peplum One-Piece Swimsuit, Forever 21 Knotted Monokini, and W Swimswear Ruffled One Piece Swimsuit.