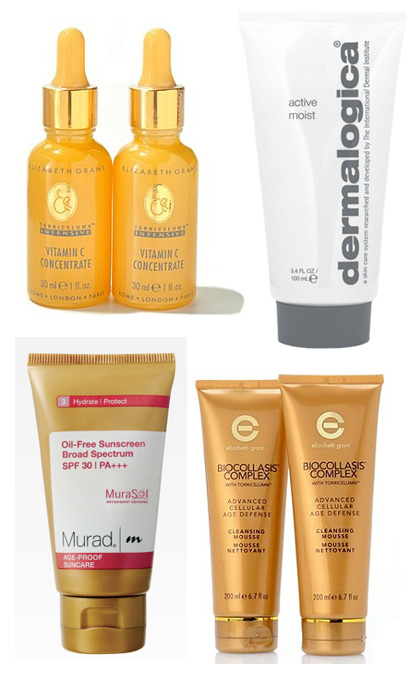 It's never too early to start a good skin care regime. The effects of age, air pollution and toxins can start to affect your skin beginning in your early 20s. But many of the negative effects can be postponed with a good skin care regimen and the right products.
Here are 5 easy ways to keep skin looking youthful and healthy:
1) Cleanse Skin Nightly: Even though it may be tempting to go to sleep with that eye makeup on, it really pays to take the extra 5 minutes to cleanse skin. Use a gentle eye makeup remover and then cleanse facial and neck skin with Elizabeth Grant Biocollasis Complex Cleansing Mousse ($28). This light, foaming cleanser is gentle enough to use daily, yet effective enough to remove dirt. It contains Torricelumn, one of the main ingredients in many of the brand's formulas. This wonder-ingredient leaves skin smooth, supple and healthy. Wash with warm water and pat dry. Your skin will thank you in the morning.
2) Hydrate: It's no secret drinking plenty of water helps keep skin looking lush and youthful. Keep a 16-32 oz water bottle at your desk provides easy access to hydration. It doesn't stop there: skin needs hydration not only from the water you drink, but also from a good moisturizer. Depending on your skin type, you will want to choose a moisturizer that is right for you. Dermalogica's Active Moist ($58) is super light and leaves skin feeling extra hydrated.
3) Use Sunscreen: Good sun protection not only keeps skin youthful and healthier, but it also prevents age spots and fine lines. I recommend a daily sunscreen with SPF of 15 to 30, such as Murad's Oil Free Sunscreen Broad Spectrum SPF 30 ($32). The oil-free formula goes on smoothly atop your favorite moisturizer, won't clog pores, and protects your skin no matter what your day brings.
4) Take Your Vitamins: We need daily vitamins and minerals to keep our body healthy. Vitamin C is a helpful ingredient in skin care products because it helps to support collagen and minimize the negative effects of oxygen radicals. Elizabeth Grant's Vitamin C Concentrate Duo ($43.64) adds to your daily moisturizing routine with a smooth, lightweight formula. The overall result is toned and healthy facial and neck skin.
5) Get Your Beauty Sleep: This one goes without saying. You need sleep to regenerate skin cells, and to wake up feeling refreshed. Getting a solid 7 or 8 hours means you won't have bags under your eyes and you can go into that presentation with confidence, not yawns.
What are your favorite skin care tips?
This post was sponsored by ShopNBC.com. All opinions are 100% mine.