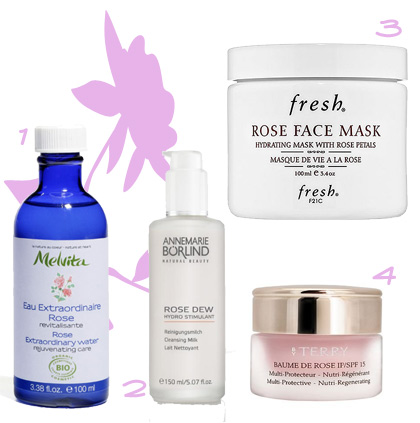 Roses are the flower of love, but did you know they are also powerful ingredients in beauty products? Rose extract helps keep skin healthy and moisturized, while aiding in the production of collagen. It helps to reduce irritation and inflammation and improves hydration. As an added bonus, rose oil smells fresh and floral. Facial moisturizers come in many different forms – from balms to gels to lotions. Whatever delivery-method you want, there are options for you. Here are a few beauty products whose ingredients include rose:
Before you start your daily makeup routine, prep skin with Melvita's Rose Extraordinary Water ($25). It's super hydrating formula leaves a light layer of protection over skin. I was sent a sample of the product to try out, and have incorporated it into my daily routine. Apply with a cotton ball, the formula feels cool on contact, and the rose essential water makes it smell divine. Made with Hyaluronic Acid from soya and Organic Glycerine, your skin stays moisturized all day. A secret-weapon ingredient of Marsh Clover actually helps to firm skin. Melvita's Rose Extraordinary Water is completely natural, like all of the products in their collection. For more information, visit Melvita.com.
Stress and pollution can wreak havoc on our skin, often resulting in dryness. But Annemarie Börlind Rose Dew Cleansing Milk ($30) can help to restore moisture while encouraging cells to produce their own moisture. Ingredients line Vitamins C and E, and extract from ginkgo tree, as well as avocado extract, Vitamin B5, rose water and essences from hops and cucumber all combine to seal moisture in. For more information, visit: Borlind.com.
When I was in high-school, one of my beauty staples was rosebud salve. The pretty vintage tin of sweet-smelling gloss was the jack-of-all trades product: adding dose of moisture to lips, cuticles, and dry skin. Well, By Terry Baume de Rose SPF 15 ($59) is the grown-up version. I received some to try and have been using it on my lips morning and night for a couple weeks now. My lips have stayed moisturized and smooth, and I feel like my lipstick even goes on smoother. A hint of rose scents the formula, not overpowering at all. The consistency is smooth and lightweight. It melts instantly into skin, without a greasy residue. I haven't tried it on my cuticles yet, but judging by the texture, I am sure it will leave them moisturized. For more info or to shop, visit: B-Glowing.com.
Relax and spend some "me-time" with a hydrating and toning gel Rose Face Mask by Fresh ($55). The formula contains real rose petals that help to restore and retain moisture. Specialized ingredients like rose floral water and is enriched with cucumber extract, rose oil, aloe vera work to hydrate. Porphyridium cruentum is a super-power ingredient that actually helps to seek out areas of skin that need the most help. For more info, visit: Sephora.com.