My typical bag buying lifecycle: Eye a bag color/style/designer. Obsess over it for a few days/weeks. Scour the web for the best deal. Purchase. Use for a while. Repeate cycle.
Current obsession: The blue suede bag. The brighter, the better. Cobalt blue adds a pop of color to any outfit, and looks amazing with neutrals as well as lighter pastels. Ready to make a bold statement? Here are a few blue suede handbags to inspire your next purchase: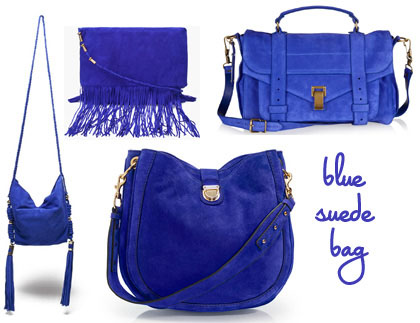 Clockwise from left
Channel your inner modern-flower child with CC Skyes's Topanga Canyon Crossbody Bag ($440). A popular style from the brand, the braided strap and tassels makes this your go-to choice for an outdoor concert or festival.
Say yes to fringe. Especially if its on a Matthew Williamson Blue Fringe Shoulder Bag ($696). Super compact, this bag holds only the barest necessities. The cross-body strap and swingy fringe won't get in the way of dancing, which we all know is an important feature.
The chicest work tote, Proenza Schouler's Mulberry Suede Satchel ($1,695) in cobalt suede provides a pop of blue to an otherwise subdued design. The hue invokes a slightly rocker-girl vibe.
Part preppy, part boho, the J Crew Telegram Suede Hobo ($278) is made from rich suede and finished with brass hardware. An 11″ shoulder strap allows for easy arm-slinging.
What do you think of this trend? What is your favorite blue suede bag?