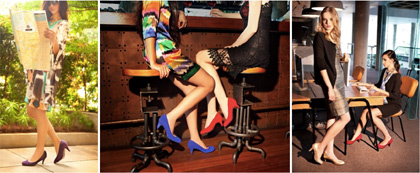 You know what they say…you can never have too many shoes. Well CHROMATICgallerie has you covered in style. The collection features a basic pump silouhette in 3 heel heights, making them the perfect choice for everything from work to going out on the town. Plus, you can customize your pumps to fit your mood. Available in a rainbow of colors, you can have a different pump for every day of the week. The best part is at each pair of pumps retails for lust $88.
Quintesential quirky girl Zooey Deschanel is a fan of the line and has been seen wearing CHROMATICgallerie pumps in her everyday life and on her hit TV Show 'The New Girl'.
For more information and to shop, visit CHROMATICgallerie.com.