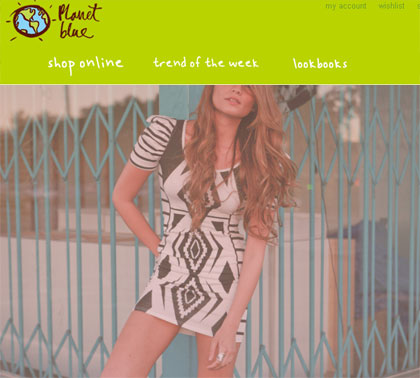 Boasting a wide selection of slouchy tops, mini-dresses, boy shorts, cropped blouses, lace mini-skirts, and more, Planet Blue features looks for the rebel rocker chick.
A favorite among fashion savvy California girls – they've got boutiques in Malibu, Santa Monica, Venice and Beverly Hills. But they also stock great selection of tops, dresses, beachwear and accessories from lines like Mink Pink, Stone Cold Fox and Jen's Pirate Booty in their online store. Mixed in are pieces from Parker, Madison Marcus and Twelfth Street by Cynthia Vincent, resulting in a selection of fashion that will take you to the beach as well as your next cocktail party.
Not to be missed is their in-house line called Blue Life featuring swingy tops, lightweight hoodies, lace tanks and more. Shop by style or browse Lookbooks and "It" girl features. Here are a few picks I am loving right now:
Clockwise from top left:
1) Parker Sequin Mini Dress ($297)
2) Blue Life Phoenix Cape Tee ($119)
3) Rebecca Taylor Strapless Dress ($495)
4) As Is The Cropped Top ($59)
Get the latest from Skinnypurse.com by following us on Twitter and FaceBook.