From our friends at College Candy: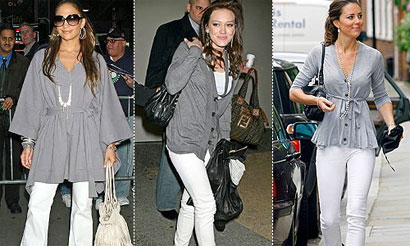 By Jill – University of Wisconsin
White jeans are everywhere these days: magazines, store windows, tampon commercials (I don't care how maxi that maxi tampon is, I do not believe you will have my back – or my underwear in this case – in white pants!) And they're cute. They are a great way to lighten up denim for the summer and look so great with so many things.
I'm especially a big fan of white pants with bright tops, printed tops and denim/chambray tops. I don't care how much the Gap or famous stylists try to tell me that denim on denim (or a chambray shirt with jeans) is back in style, I will NOT be rocking a Canadian tuxedo of any kind any time soon. [Note: CollegeCandy loves Canada. Please don't hate us.] But pair a cute denim button down or jacket with white jeans and you've got yourself a hot little number. Holleration!
Here are three examples of crisp white denim for summer. And with Memorial Day/Summer BBQs/excessive day drinking around the corner, you can start rocking these ASAP. As in now. As in get yourself a pair and rock them.
White Shorts
Paired with this cute crop top and white sandals this outfit screams "I like pina coladas and getting caught in the rain." Or "I like to spend my days on the beach with a boom box." Pair with white shades OR go for the lavender, which adds a fun '80s twist paired with the coral top. Oh, and if crop tops don't really do it for you (like they do for Brody Jenner), just throw on a basic white tank underneath to get the same look without showing off your belly button.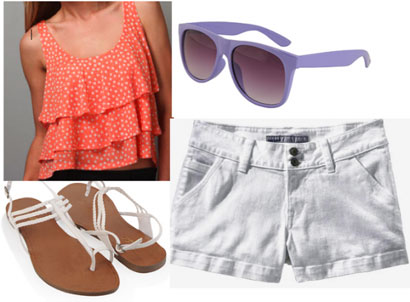 Product Information: Shorts – Old Navy, $15; Crop Top – Lulus.com, $30; Sandals – Forever 21, $15.80; Sunglasses – Forever 21, $5.80
Read the rest of the article on CollegeCandy.com!