Lately I've been obsessed with finding ways to get the smoothest locks. I am trying everything from blow dry bars to styling tools and hair products, in every possible combination. My mission is in full-effect.
Frizzy hair is basically caused by humidity and friction. Depending on the moisture balance between your own hair and the air, locks can be smooth or frizzy. When there is an imbalance, hair strands work to accommodate for more moisture, cuticles lift creating rougher strands, and friction between strands gets out of hand. Since we can't fight the environment, short of moving, all we can do is use products that help fight frizz-inducing elements.
Below, find the latest players in my frizz-fighting beauty arsenal.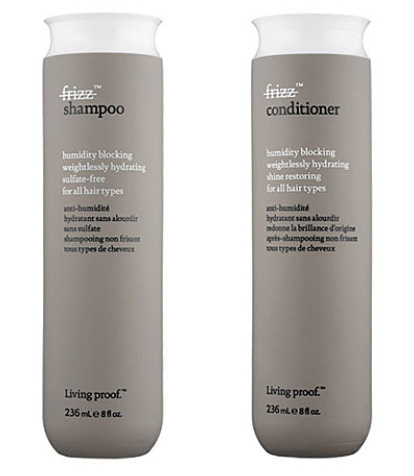 Wash and Condition:
Living Proof uses OFPMA in their No Frizz line of shampoos, conditioners and styling products. This miracle molecule blocks humidity, smoothes the cuticle and repels dirt, keeping hair cleaner longer. OFPMA builds on itself, creating a frizz-fighting shield over each hair strand over the first five days of use.
Living Proof sent me their No Frizz Shampoo and No Frizz Conditioner ($24 each) to try out for myself. I have been using it for a week or so now, and am loving the results. Not only does it smell yummy, but both products are lightweight and rinse out without leaving a residue, yet they leave behind humidity-fighting properties.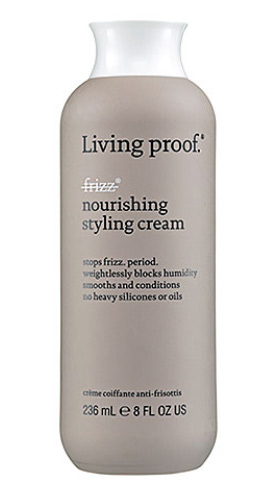 Style It:
After washing and conditioning, while hair is still wet, apply Living Proof Nourishing Styling Cream ($36), starting at the ends and working your way up. The first time I used this product, I let my hair air dry and it amazed me. Normally, I have to wash my hair at night, and sleep on it to help fight frizz, then flat iron or curl in the morning. Living Proof No Frizz Nourishing Styling Cream flattened my hair strands without me having to sleep on it. This is the closest I have been to "wash and wear" hair in my life. The next time I used it, I dried my hair with a blow dryer, and it felt like it was more manageable than usual.
Note: There is tons of product information on the Living Proof website. Very informative. I definitely want to go back and try some of their other lines, including Straight.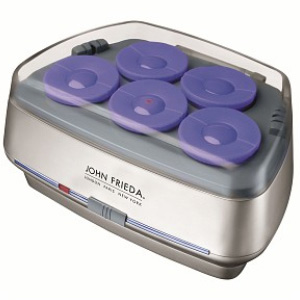 Set It:
The last time I used hot-rollers was in college, so when the folks at John Frieda sent over a set to try, it brought me back a bit. After washing and drying my hair, I plugged in the John Frieda Volume & Curl Body Boost Hair Setters ($49.99) and sectioned off areas on either side of my hair. The set heats up in 2 minutes, and has 5 jumbo (2 inch) rollers and 5 super clips. It took me a minute to get the right angle to roll up my hair, but once I did, I had 5 large sections done. Using Ionic Conditioning, the John Frieda® Frizz Ease® Hair Setter by Conair safely distributes heat throughout hair, leaving hair frizz-free and shiny. The large rollers create big, loose waves, and add body. For tighter curls, you can use a curling iron on strands around the face, or leave loose and channel your inner-Bardot.