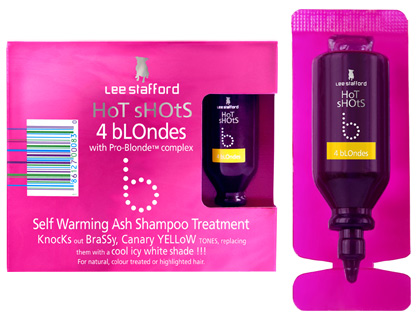 Perfect World: Personal stylist, unlimited wardrobe funds, monthly hair and beauty treatments.
Reality: Bare-minimum makeup routine, wardrobe budget, hair and beauty treatments when I remember to schedule.
Does this sound like you? It sounds like me! While we all can't have access to unlmited funds and personal stylists, there is a way to keep your hair bright, shiny and blonde between color treatments*.
Hot Shots for Blondes by Lee Stafford helps to eliminate brassy tones that affect blondes between color treatments. The celebrity stylist has created an awesome, natural treatment that tones down unwanted brassiness. After shampooing and before conditioning, simply apply the small 'shot' of purple-hued treatment. It warms the scalp as you massage it into your hair. Formulated for natural, coloured or highlighted hair, the treatment revives the coolness in your blonde hair, using it's Pro-Blonde complex. The formila contains tons of moisturizers leaving hair soft and bright.
I used 3 shots over the course of a week and a half (use every other time you shampoo), and found my hair was brighter and softer after. When I received the set to try out, timing was perfect because I wasn't due to get my hair colored for another few weeks. I will definitely buy this product to use again. It is way more affordable than most purple shampoos, smells great and is effective.
Here's how to use it:
– Shampoo hair with your normal color-safe shampoo.
– Massage hot shots for blondes into your scalp and leave on for 2 minutes. (Note: you will feel a warming sensation, which is from natural ingredients in the formula).
– Rinse and condition.
– Use blonde hotshots every other time you wash your hair.
Lee Stafford's Hot Shots for Blondes is available for $12 at Ulta.com.
*Lee Stafford also has a ton of amazing products for non-blondes here.