It is now March, and here in Seattle, the signs of spring are not very apparent. However, blustery days and brief pockets of sunshine bring hope and excitement for spring. One accessory I wear on a daily basis is a scarf. Whether worn indoors our outside, a scarf adds a pop of color, and pulls together any outfit.
Two brands on my radar are taking this everyday accessory to the next level, with bright prints, colorful patterns, unique fabrics and embellishments.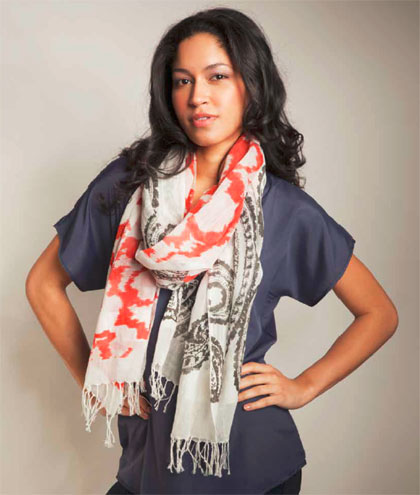 Shawlsmith London
With colorful prints, and lightweight, high-quality fabrics, Raleigh, NC based Shawlsmith London recently launched a collection of spring and Summer-inspired scarves. The stylish looks go with any personality, and can be worn multiple ways.
For the Spring/Summer the designers of Shawlsmith London used unique techniques, like mud printing, laser cuts, hand-knotting, and metallic overlays. Featuring both casual and dressy styles, these scarves fit nicely into any wardrobe.
I had an opportunity to try out my own Shawlsmith London scarf, and have been wearing it a ton. It's a cream colored scarf with a red dip-dyed Ikat print on the ends. Depending on how I style it, different areas of the scarf show through. The fabric is light and airy, making it the perfect weight for a breezy yet sunny day.
Shawlsmith London debuted their first collection in 2005, and also offers jewelry. Inspired by London, the designs have been featured in InStyle Magazine, as well as countless fashion blogs. Items are available in high-end boutiques across the US and Canada.
For more info, visit the Website, check out on Twitter and like on Facebook.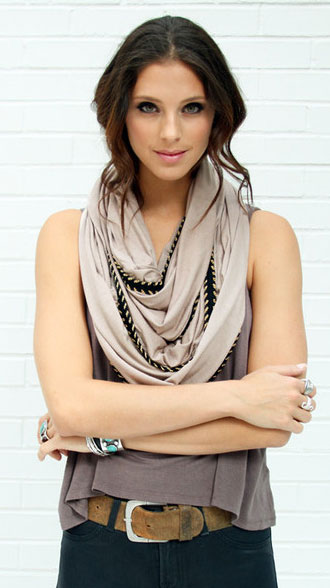 ash&dans
Ashley Cook and Danielle Dankner are a team that has taken scarf design to the next level. Adding embellishments like chains, fringe, laser cuts, lace and studs, to soft jersey scarves, the designs have created a line of unique pieces that add a fashionable element to any outfit.
Cook and Dankner's friendship began as roommates in college, and in 2008 they moved to New York City to run with their dream. Their designs are classic and edgy at the same time – a perfect combo.
Adhering to their motto of "keep it simple," the jersey pieces feature details that you won't find on many scarves. I love the way they combine chains into their scarves for instant jewelry. The laser-cut pieces feature pops of neon, enough to brighten any outfit (and mood). Seen on celebs like Vanessa Hudgens, Jessica Alba, Leighton Meester and more, ash&dans scarves are clearly what the cool kids are wearing.
For more info, visit the Website and check out on Twitter.