A few weeks ago I spent some time chatting with the super-sweet and stylish Katy, the Senior Community Manager over at Yelp Seattle. Her job is quite enviable. She gets to explore her city and share her finds via recommendations and opinions on YelpSeattle.com. Part of a large network of city guides, Yelp.com was founded in 2004 with the goal of helping people find and review local businesses. Since then, the site boasts visits from millions of visitors per month. The content is written mainly from it's readers – people like you and me, who visit a business and write a review on it.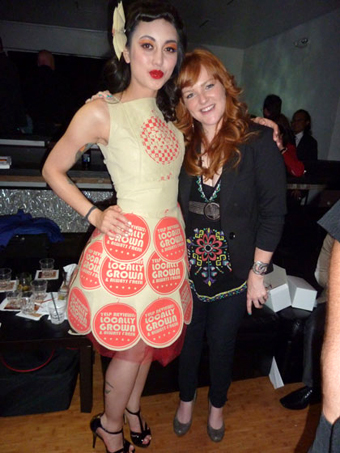 *Here is Katy (right) with a model in the Yelp dress by Rene Ropas*
As a Seattle local, I am alsways curious about where the best spots are. I was excited get some tips from someone with her finger on the pulse of the city. Not to mention, this girl has got some fashion sense – I want to know where she shops! Below, Katy answers a little Q & A about her city:
SKP: As the main Seattle yelper, you have to know the ins-and-outs of your city. How do you go about discovering new spots and hidden gems?
KH: Though I read a ton of awesome local blogs and magazines to stay on top of trends and new spots, Yelp itself is a great resource. Seattle is a very tech savvy city so our local yelpers are all over popular blogs. As a result, the Talk boards on Yelp are always chock-full of great info pooled by our community members and most active contributors. We also have a nifty "Hot New Businesses" section right on our Yelp.com homepage here in Seattle. So anyone can check out what's new in the Metro Area just by surfing over to Yelp!
SKP: Please tell us your favorite spots below:
Coffee Shop: Vivace. I tend to favor the one at N end of Broadway because of it's proximity to my home office, the free wifi, the amount of space in case I need to conduct a meeting, and of course they have the best lattes in Seattle!
Boutique: I've managed to get out of The Finerie a few times without making a purchase. And that can be hard! It's a small shop but the customer service is always phenomenal, the selection is varied for the size of the store and if you're dragging a man out with you, they do have some items for him as well. I'm also a big fan of various spots in Ballard. I bought some fabulous new pillows at Jax Joon last week. They also sell clothing, furniture, housewares – you name it, they have it, and it's CUTE!
Department Store: I'm going with Nordstrom. Not only are they native to Seattle, (go local!) they seem to carry all of the brands I love at MACY*s, but with a better selection. Their shoe dept always gets me!
Breakfast Joint: French food is among my favorite on earth and there's no better quiche than the one I've had at Le Pichet. I'm also fond of the sister location, Cafe Presse.
Dinner Spot: This is tough! Lately I've been on a Local 360 kick. No matter what meal, the food is always superb. I also need to mention that I love The Coterie Room, Lark, Elemental, and Chez Shea. I can't pick just one!
Spa: Helle in Georgetown is amazing for massages, facials, waxing, and more. I've been dying to try their full body massage with dead sea salt scrub. In fact, I think I'm going to book that right now.
Hair Salon: I'm overdue for a trim but I've been seeing a gal at Stylus in Belltown since my old stylist relocated to Tacoma. The salon is spacious and clean and everyone there is incredibly talented. Did I mention the space is also a local art gallery? When I go in for a trim there's always a new artist being featured on the walls. Such a cool idea!
SKP: What is something you've learned about the city that most people don't know?
KH: That the dating scene isn't so hard if you get past the fears of the Seattle Freeze. This town is full of hilarious, charming, and witty people.
SKP: How does Seattle differ from other cities you've lived in?
KH: Having lived various parts of Mexico, San Francisco, Boston and now Seattle, I've come to really appreciate how much people take advantage of good weather here. As a child in California I could opt to stay in all day and watch TV because the sun would come out tomorrow, and the next day, and the next. Here in Seattle people take full advantage of our local parks and wonderful outdoor activities when the sun makes an appearance. I love the sense of urgency you see on the streets. People are racing to get home from work and strap bikes and kayaks to their cars before the sun dies down.
SKP: Where is the best place in Seattle you've found through yelp?
KH: Another tough one. I'll go with a recent awesome discovery. I was headed out of the country on vacation and being the total procrastinator I am, I needed to get my passport renewed ASAP. I found a passport expediting company, A Briggs and they got my a new passport in less than 3 days. It was super cost-effective and instead of wasting time waiting in lines and filling out paperwork, they did it all for me! I also recall discovering the ever-amazing restaurant, Elemental on Yelp. Oh, and my amazing dentist and even my vet!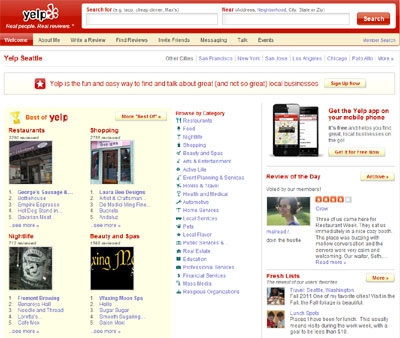 SKP: Any tips on using yelp?
KH: Yelp is all about real people writing real reviews. So while all contributions to Yelp are valued, I tend to pay more attention to reviewers who use real photos and real names. It makes me think they're willing to take responsibility for what they write because they're not hiding behind a Barney the dinosaur avatar.
SKP: What is your favorite thing about working for Yelp?
KH: Working for this company has allowed me not only to appreciate and know get to know Seattle on a deeper level, it's connected me to lifelong friends and fabulous people.
Thanks Katy! I can't wait to visit some of the places you mentioned! Find Katy on Yelp and Twitter at @YelpSeattle.