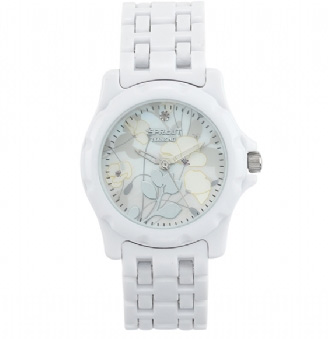 Corn is probably not the first thing that comes to mind when selecting a watch. But one company is changing the mindset of how watches are made, by creating a line of eco-friendly time pieces. Sprout Watches uses unexpected materials to craft beautiful timepieces designed to be wearable classics.
No strangers to the industry, the founders of Sprout Watches have been producing watches for more than 50 years. The decision to move to eco-forward production was timely, given global awareness of earth-friendly products. Using materials like corn resin, conflict-free diamonds, bamboo and cork, the wearer can feel good about their decision to purchase from Sprout.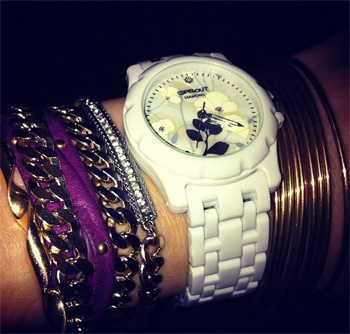 If you follow Skinnypurse on Instagram, you may have seen my recent photo of my bold white watch stacked among multiple bracelets. What I didn't tell you was that the watch is made from corn resin! I love it because of the modern yet feminine design (not to mention the lightweight feel).
A little about corn resin, straight from Sprout:
Did you know…You The shelf life of corn resin is similar to synthetic plastics. It will not break down during regular wear and use. In a compost environment, corn resin is 99% biodegradable to carbon dioxide and water within 365 days. Since it's made from corn, it comes from a renewable resource. Conventional plastics use an estimated 200,000 barrels of oil a day in the United States alone but because corn resin is bio-based, it therefore uses no oil resources in production.
The watch features a corn resin case, caseback, bezel, bracelet and movement holder as well as a pretty mother-of-pearl dial and mineral crystal lens. I am loving a pop of white these days, whether its in my outfit, shoes and now this gorgeous watch. At $60, it's an accessory I can justify.
Bonus: Sprout Watches come in boxes made with recycled materials. For more information, and to shop the collection, visit SproutWatches.com.