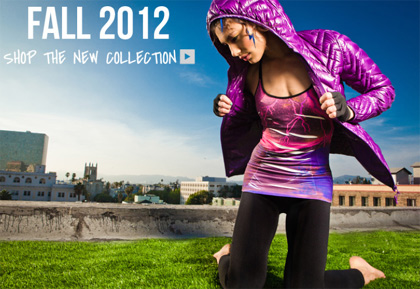 Time to electrify your workout. Start with yoga wear from Electric Yoga. Created by Master Yogi Michele Bohbot, Electric Yoga encourages women take charge of their life and dreams by harnessing their personal electricity. With 20 years of experience in the fashion-industry, Bohbot's collection of seamless yet structured silhouettes in high-quality moisture-wicking fabrics blend technology with bold-hues. We caught up with Michele to find out what makes her line so electric.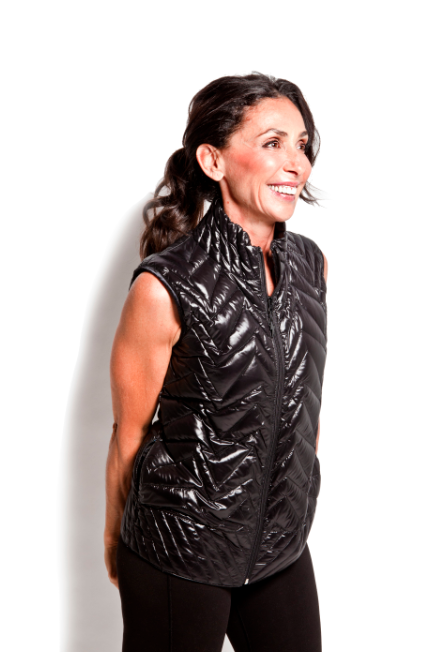 SKP: Tell us a little about Electric Yoga and the inspiration behind your designs?
MB: Electric Yoga is an extension of the way I live my life and passion for yoga, fitness, & fashion. As a designer and a Master Yogi I have built a collection of active wear that is both fashionable and functional. Electric Yoga is about harnessing your own personal electricity and taking charge of your life and for me to inspire you to always live your life ELECTRIC!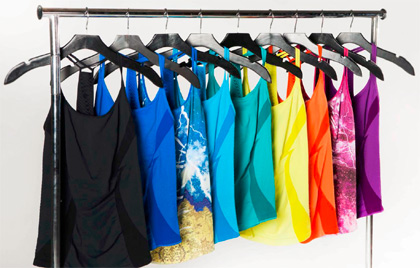 SKP: What type of woman wears Electric Yoga Wear?
MB: My customer has an inner strength and beauty that she carries throughout her active lifestyle. She is fun, passionate and strong and while she strives for the best in all areas of her life she never takes herself to seriously. Electric yoga encompasses many different types of women. Not only yogi's & athletes but just all around amazing women and their spirit for life is what makes them ELECTRIC!
SKP: How did you get your start designing?
MB: I was fortunate enough to have found my creative spirit early and passion for design. After moving to the states from France I had a vision to bring a new style of elegant, sexy fashions through body conscious fabrics, silhouettes, and color that would take the American women from day to evening. My collections were always about inspiring a women's femininity and empowering them through my clothes.
SKP: If you had to describe your collection in 3 words, what would they be?
MB: FASHIONABLE, FUNCTIONAL, & ELECTRIFIED!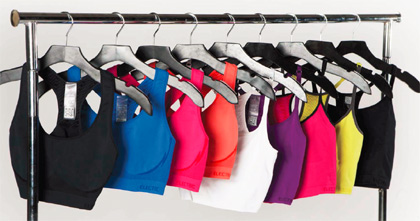 SKP: What is the one piece in your collection every woman should have?
MB: Our leggings are an Electric consumer MUST HAVE! With my experience in fashion and years of fitting and as an active-wear consumer myself I make sure Electric Yoga leggings are completely functional for any work-out routine and extremely flattering on different body types. I make sure to give our legging a long lean leg and our fabric selection offers maximum compression with the latest technology to increase blood circulation as well as important wicking properties.
SKP: What active wear features will we see in upcoming seasons that will be reflected in your designs?
MB: We are launching a patented fabulous, AMAZING new pant called "Anti Slip yoga pant". I was inspired to "be the mat" in order to be able to practice asanas anywhere. The pant has a soft sole and it is molded to the human foot. It is FANTASTIC for traveling or for doing yoga in your home. Not only is it great for doing yoga in but can also be excellent for Pilates as well as dancers.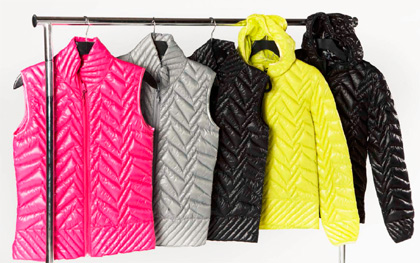 SKP: How do current fashion trends play into your design aesthetic?
MB: My first priority when designing Electric Yoga is not to worry about fashion trends but to make sure our product is at the highest level of quality and our fabric selections offer the latest technology for the consumer. On all Electric Yoga garments I communicate to the customer through what I call "structured awareness" so they know that Electric Yoga products are not only fashionable but functional. Even after many washes it still looks new.
SKP: What is your favorite fashion trend?
MB: I would say COLOR! For me I am so inspired by color, as a artist and a designer color talks to my sense and then I know it will resonate with my customer. Color defines mood and energy and I love the way different colors relate to each other to create powerful statements. In the collection there are numerous ways to layer Electric Yoga pieces with color which can bring out style, fun and electricity!
SKP: What trend would like to see disappear?
MB: I have to be honest I dread the head to toe "sweat suit" It became a uniform and to me took away the uniqueness, dimension, femininity and strength of the women.
SKP: How do you see the company evolving in the future?
MB: I want to grow Electric Yoga organically through customer satisfaction with my collection. I see myself having intimate conversations communicating and listening to the customers input through social media, trunk shows, videos, and personal appearances. I want to not only address the fitness consumer but also to empower and inspire ALL women to use their spiritual electricity. I don't want to be just a brand but a complete mind, body, spirit active and inspirational Empire. I invite each of us to TURN ON THE LIGHT WITHIN!
Products range from $24-$198. For more information on Electric Yoga or to shop, visit Electric-Yoga.com.