From our Beauty & Style Editor, Theresa Johnston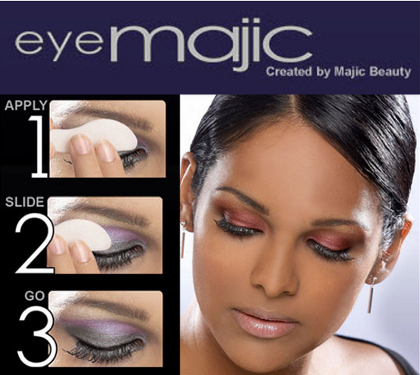 I don't wear a lot of eye makeup. Usually just a touch of shimmer under my brow bone, a swipe of mascara, and I'm out the door. I would like to be more adventurous when it comes to eye makeup looks but I never feel like I know what I'm doing, which is why I was so excited to try Eyemajic Instant Eye Shadow.
Eyemajic Instant Eye Shadow combines eye shadow color and expert design onto an small, eye-shaped pad. Position the pad over your eye, press down, slide it off, and you're left with a complete eye makeup look in an instant. So how did it work for eye-makeup-challenged girl like me?
It was a bit awkward pressing the pad down and dragging it off for the first time but with a little practice, I could easily get better at it. The pad transferred the color to my lid evenly but I had to blend it with a fluffy shadow brush quite a bit to soften the color lines, which were a little too definite for my casual meet-the-girls-for-brunch outfit. Normally, I would never have applied that much shadow on my own but the perfectly paired shadow colors totally made my eyes pop. Overall, I was pleased with the result. Eyemajic Instant Eye Color is definitely a fast, fun way to try a new makeup look.
Eyemajic Instant Eye Shadow is available at eyemajic.com.