By our fashion and beauty intern Emma Hollomon

I love switching up my nail color and was so excited to try LVX nail polish for the first time. The brand, which translates to "light" in Latin, fuses emerging runway trends with timeless color palettes. LVX's unique color collections are meticulously selected from top colors of the season to complement your wardrobe perfectly.
LVX polishes are 100% vegan and "5 free"- meaning they don't contain the five harsh and toxic chemicals – Formaldehyde, Formaldehyde Resin, DBP, Toluene, and Camphor – that are often found in other polishes that can damage and weaken nails over time.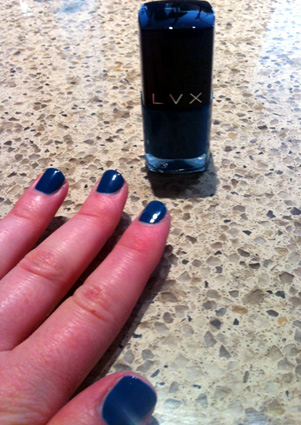 I love how the polishes have an attractive top for display as well as an applicator underneath that's comfortable to hold and maneuver. In the picture I'm wearing the deep blue-green tone Prussian. To my surprise, the color didn't chip all weekend with just one coat! With a wide range of opulent, rich colors and the staying power of this polish I would definitely recommend trying LVX!
LVX Nail Colors come in a variety of trendy colors and are $16 each. For more info and to shop, visit ShopLVX.com.
Thanks LVX and LuckyFABB for this gift bag sample!