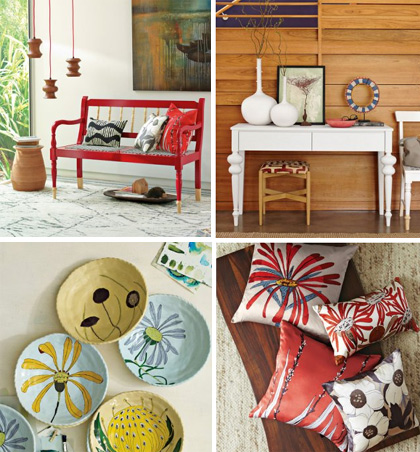 Lately, the only thing I have had time to read are the catalogs that come in the mail. I always give special attention to my West Elm catalogs – I dog ear the corners for decorating inspiration and shopping ideas. It's always fun to see what's next for the brand.
Their latest collaboration is one I am excited about. West Elm's South African artisan collaboration features a selection of products with a tribal-inspired, handmade, found object aesthetic. Find pieces for your entire living space with one-of-a-kind ceremonial benches and hand-woven dining chairs inspired by the antlers of African Nguni cattle. As always, you can pick up smaller, decorative items to tie-in the collection.
West Elm has partnered with Elle Décor to offer "hidden shopping pages" to Elle Décor readers. You can get a sneak peek and early chance to buy items from the South African Collection. Hurry, next week the items will open up to everyone shopping online.