This giveaway has ended. Congrats to Zack! Check your email for instructions on how to claim your prize. Thanks to everyone for your submissions! Check back for more giveaways on Skinnypurse and Styleguyde.com!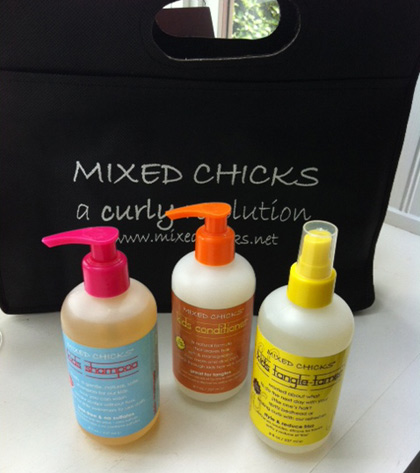 Does your child have curly hair? Mixed Chicks has created a line of products for kids with curly hair. Made with nourishing ingredients, the products condition and restore hair, keeping it healthy. Each one is designed to help make hair manageable and tangle free.
The lovely people at Mixed Chicks sent over a selection of kids' shampoo, conditioner and detangler to try. Now, I will say that both my children's hair is straight, with slight body. But, they both are not fans of getting their hair combed. The act usually results in several "ow mom!"s. Lately, my Mixed Chicks Kids Tangle-Tamer has been my secret weapon. I tell them I am getting the "spray" and they instantly relax. Bonus: the scent is amazing. It's lightweight and sweet, but not too sweet.
Mixed Chicks Shampoo for Kids is tear-free and sulfate-free – gentle and safe and a formula I feel good about my kids using. I've been using Mixed Chicks Kids Conditioner on my daughter's ends and found it to be an effective way to keep hair smooth and tangle-free.
Products retail for $13 each and can be bought online at MixChicks.net.
Giveaway! Does the Mixed Chicks Kids Hair Collection sound like something you'd like to try for your kids? We are excited to giveaway a set just like the one featured above. All you have to do to enter is leave a comment below with your favorite curly-or-straight hair beauty tip. I know you'll love these products for your kiddos!
A winner will be selected via Random.org on 2/25. US residents only. Good luck!