By our fashion and beauty intern Emma Hollomon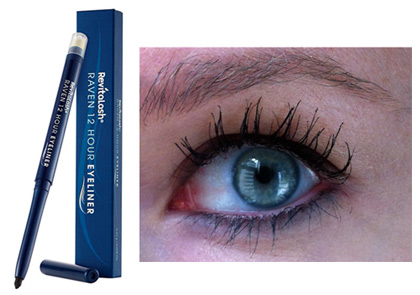 We've all been there, you leave the house on a humid summer day looking fresh as a daisy, but within a few hours, your eyeliner starts rebelling and migrates south. The good news is that beautiful eyes and sultry days don't have to be mutually exclusive. Revitalash's Raven 12 Hour Eyeliner ($24.00) provides high-impact color that truly doesn't fade. It's a crème eyeliner with highly pigmented ultra- intense, long-lasting color. I put it on around 10:00 AM and didn't even have to re-touch up my eyes as I was getting ready to head out for the evening. The easy-to-use mechanical pencil offers the precision and impact of liquid eyeliner in the convenience of a retractable pencil. I especially love how the built-in smudge sponge blends your precise line into a sultry, smoky eye. This eyeliner is great because unlike many other brands that go on jet black with one application, RevitaLash raven allows you to layer it, ultimately choosing how dark you want to shade your eye. This is a must have product that's worth adding to your makeup routine!
Thanks Revitalash and LuckyFABB for this gift bag sample!