And the winner is…Sharon S! Thanks to everyone for your submissions! Check back for more giveaways on Skinnypurse.com!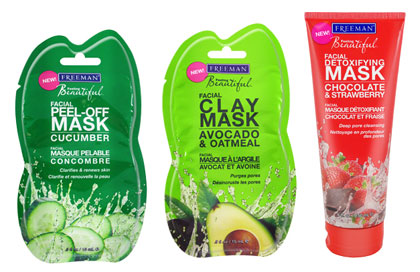 As a bit of a self-proclaimed beauty junkie, it's always gratifying to find products that don't cost an arm and a leg. One brand that has always offered affordable yet effective beauty products is Freeman Beauty Labs. Freeman has been a drugstore staple for over 30 years. I've been using their lotions since high school. They boast a wide selection of skin and body care products, as well as hair care items. They are also the makers of the wildly famous Pssssst…. Dry shampoo for hair. Using natural botanicals, items in the Freeman line smell divine.
Freeman Beauty Labs sent me a fun little beauty kit filled with products from their Feeling Beautiful skin line which contains natural extracts from fruits, oats and botanicals. I've always been a fan of their Cucumber Facial Peel-Off mask, it smells yummy, is lightweight and leaves skin feeling soft and moisturized. As with any peel off mask, you just have to remember to really rinse your face, as sometimes little bits can be left behind.
Also included was the Avocado and Oatmeal facial clay mask. My skin is oily in areas and dry in others. Clay has always been an effective ingredient in my skin care regime, as it unclogs pores and draws out impurities. Oatmeal helps reduce redness in irritated skin. Avocado softens skin in the most amazing way. This mask is a must-have for anyone who has combination skin.
Finally, their Chocolate and Strawberry Facial Clay Mask was also included. Again, the clay helps to deep-clean skin and the strawberry has some exfoliating properties. This is a great mask to use regularly as it does not dry skin. My only issue would be the scent – it's nice but the chocolate is slightly overpowering. I prefer the scent of the avocado/oatmeal mask. However, I will definitely still use this since I liked how it made my skin feel.
Freeman Beauty Labs products can be found at most major drugstore chains, and everything is super affordable. The masks above sell for under $4 for the regular size and $2 for the travel size. You can also shop their entire line and save 25% off your purchase with code BLOGGER25 at FreemanBeauty.com.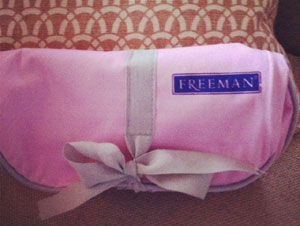 Giveaway!
Freeman Beauty Labs is giving away a travel kit choc full of beauty essentials to one lucky Skinnypurse reader. The kit includes everything you need to do a mini-spa treatment at home. You'll get:
– The 3 masks I tried: Freeman Feeling Beautiful Cucumber Facial Peel-Off Mask, Freeman Feeling Beautiful Chocolate and Strawberry Facial Clay Mask and Freeman Feeling Beautiful Avocado and Oatmeal Facial Clay Mask
– A Freeman Beauty hand towel
– A Pssssst… Shower Cap
All of this wrapped up in an adorable hanging travel case. A $19.99 value.
To Enter, simply leave a comment below with the Freeman Beauty product you'd most like to try, or your current favorite. A winner will be chosen on March 25th. Good luck!