This giveaway has ended. Congrats to @mijulinmarie! Thanks to everyone for your submissions! Check back for more giveaways on Skinnypurse.com!
For the last several weeks, I've been holding out on a little skincare secret. Nothing intentional – every day I use these products and think, I need to tell my readers about this stuff! Well, here it is: Eclos Beauty is a line of anti-aging skin care products that uses plant-based Apple Stem Cells. (Apple?!) These amazing little things help delay signs of aging and keep skin looking fresh and awake. All plusses in my book.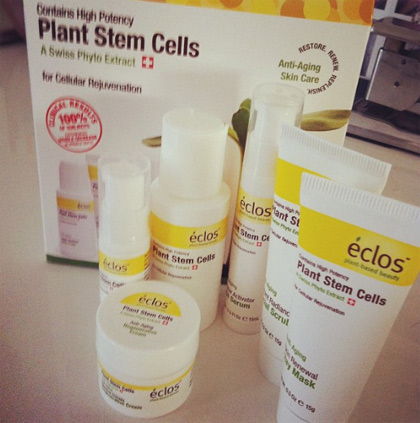 I received a little kit, pictured above, with sample-sized goodies from the Eclos collection. The line, owned by Freeman Beauty features everything from facial cleansers to eye creams. Each product contains the Apple Stem Cells, among other natural ingredients that promise to create a more youthful appearance.
Here is what I love about the products:
Lightweight formulas: My skin is sensitive, and quite fussy. Eclos products go on light and absorb quickly, nothing feels heavy or weighed down.
Natural Ingredients: The products are paraben, sulfate, synthetic fragrance and synthetic dye-free.
Scent: Totally not overpowering, a breezy scent that makes you feel like you are using skincare, not perfume.
Price: Eclos products cost way less than your typical anti-aging skincare line.
Results: After several weeks of use, I truly feel like my skin is tighter and more refreshed.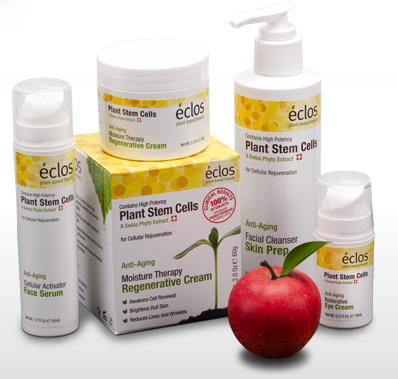 Giveaway!
Want your own Eclos set to try? One lucky reader will win a package that includes Eclos Facial Cleanser Skin Prep, Cellular Activator Face Serum, Moisture Therapy Regenerative Cream, Restorative Eye Cream, Instant Radiance Facial Scrub, Skin Renewal Clay Mask and a Terry Cloth Headband. Each of the following gets you one entry. Leave a comment below letting me know how you entered:
1) Tweet "I want to try @EclosBeauty from @Skinnypurse: http://bit.ly/Syb1qr"
2) Like Skinnypurse on Facebook and post on our wall about the contest.
I'll announce a winner on Monday, October 1st. In the meantime, enjoy a 25% discount on Eclos products with code eclos25 at FreemanBeauty.com.