From our friends at College Candy: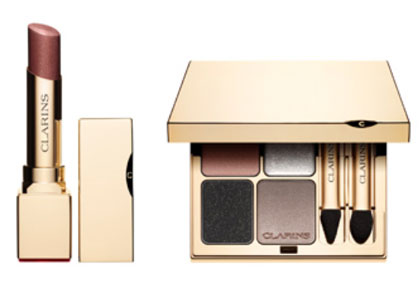 What It Is:
Clarins Eye Quartet Mineral Palette in 07 Smokey Passion and Rouge Prodige in 131 Passion Rose
Why This Should Be in Your Bag:
I rarely feature collections on In Our Makeup Bag and here's why: they are big. Most makeup collections have upwards to 10 pieces and that is just too much for this column. On top of that, the quality of all the items is usually so varied that they don't make for a very coherent review.
Clarins is a fave brand of mine that happens to put out rather modest collections. Their latest holiday fare boasts only three items: a face powder, eye quad and a lipstick. I have both the quad and lipstick to test out, so let's see how it goes.
How To Use It:
I've previously reviewed Clarins Eye Quartet Mineral Palettes, but this one has a slightly different set-up. Included are two eyeshadows, one powder eyeliner and a creamy highlighter. This selection makes use rather easy. Neither of the eyeshadows stands out as the lid or crease color, so you can match them any way you please! Then, line your upper (and lower if you're going for intensity) lash line and add the highlighter to your brow bone and inner corner. Another plus: you can use all four both wet and dry!
Find out what grade College Candy gives Clarins Holiday Eye Quartet and Rouge Prodige Lipstick here!