Are you shopping for a new handbag? Some of our readers have inquired about what to look for when making a handbag purchase. We've rounded up some suggestions on how to buy a quality handbag, and also consulted designers Romaana & Saifra Zia, owners of Nyla Noor, for some of their expert tips on making a handbag purchase.
1) Material: You can find a handbag in any material. If you are looking for a genuine leather handbag, you'll want to make sure it's of good quality. Make sure the leather feels good to the touch. If it's a lighter or white bag, take care in wearing dark clothes with your bag. Many of you have had dark denim dye rub off on your white bag.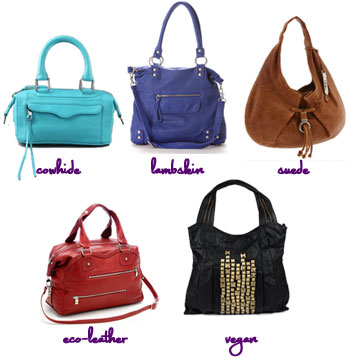 Cowhide leathers are durable, often have a textured surface (i.e.: pebbled leather), and are great for structured bags. Designers like Rebecca Minkoff and Botkier offer gorgeous high quality leather handbags.
Lambskin is a more delicate leather, but the texture is usually super soft and slouchy. Linea Pelle make amazing washed lambskin bags. Suede is another great soft leather option.
There are also many eco-friendly options. Nyla Noor makes bags using eco-friendly leathers that are tanned with vegetable dyes instead of harmful chemicals that end up in our oceans. Good non-leather and vegan options come from companies like Matt and Nat. Or, go with vintage and recycled leathers from a brand like Novella Royale.
2) Lining: Depending on your lifestyle and how you use the bag, the inside of your bag can get dirty. (Think makeup or milk spills). We recommend looking for a darker or patterned lining that will hide stains, as cleaning the inside of your purse is not always easy. If you fall in love with a bag with a light interior, don't fret – it's better to get the bag you love than worry about the inside.
3) Hardware: Rings and studs look cool, but be aware of the tone and quality of the metal. Thin, lightweight metal can look cheap and fall apart. Do a hardware weight test with your bag – you don't want the pieces to be super heavy, but they should be hefty enough that you know the quality is there.
Zippers are also an important feature. "Zippers are a great design detail that can add an edgy touch to any bag. But their ability to function properly is critical," says Romaana Zia. "This was something that was very important to Saifra and me when we picked out the zippers for our handbags. Well crafted zippers slide smoothly and effortlessly. Zippers that get stuck or caught half way tend to stay that way so it's important to make sure you like the way the zipper works the first time. The zipper puller should also fit comfortably while holding it."
4) Size of Bag: Think about what your needs are and what you will be carrying. Are you looking for something to hold keys, a lipstick and credit cards? Then a small clutch or cross-body might do the trick. Need more space to hold a wallet, baby stuff or even a laptop? Try a shoulder bag, hobo or shopper. Saifra and Romaana recommend walking around with the bag on your shoulder to see how heavy it is and if it digs into your shoulders. There is nothing worse than buying a bag that weighs more than you do when empty!
6) Entryway: Romaana recommends opening and closing the bag multiple times before buying. "Sounds simple, but does this require one or two hands? Do you have to put the bag down in order to open it? Are their any locks that seem difficult to open? Does your hand or arm get in comfortably? Do you feel your items are secure?"
7) Pockets: Again, think about what you need to have access to at a moments notice. "Who likes to fumble around for a ringing phone or keys that have found their way to the bottom of the bag? While walking around with the bag (in the store), mimic the act of looking for something you know you always need within easy reach. We like to design a lot of secret pockets so the user can get something without strain," the designers express.
8) The Store: With so many replicas and fakes on the market, it's easy to get taken. Make sure the store you are shopping in is reputable and backs it's products with a genuine guarantee. Watch out for online sites that look sketchy promising authentic bags at slashed prices.
9) Return Policy: Read policies carefully, and beware of stores that will not return your bag. When buying online, it is especially hard to know exactly what the material will feel like, what size the pockets are, how the zippers work, etc. It's important to have the confidence that you can return the item if it does not work for you.
10) Proper Care: Once you have your beloved new bag, you'll want to take care of it. Most high-end bags come with dust bags. Use them! This helps protect the material from light and dust. Never store bags in plastic. Keep bags in a temperature-controlled space, not a stuffy attic or cold basement. Condition leather with a leather cream to keep leather from drying or cracking. Use care when cleaning your leather handbags. Always follow the manufacturer's recommendations.
We hope these suggestions have helped in your search for a bag. What tips do you have for finding and buying a handbag?