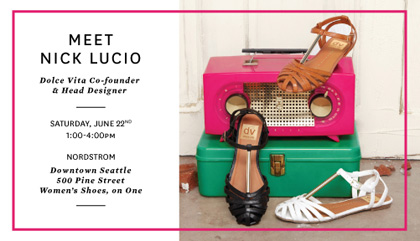 When it comes to footwear, there are few affordable brands who consistently knock it out of the park. For me, Dolce Vita is one of them. The brand continuously churns out stylish shoes and clothes that are on trend, but not overly trendy. I have several pairs of Dolce Vita and DV by Dolce Vita shoes – from flat sandals to booties, and I truly love every pair.
If you are in the Seattle area on June 22nd, you can join Nick Lucio, co-founder and designer of Dolce Vita at the Downtown Seattle Nordstrom. Visit the women's shoe department from 1-4 PM for a sneak peek at the Fall 2013 collection, while Nick offers styling advice and answer shoppers' questions. Enjoy light refreshments, gift with purchase, and the chance to win a summer wardrobe styled by Nick himself. Fifty second-prize winners will receive a pair of DV by Dolce Vita sandals!
For more information on the brand, visit: DolceVita.com, Facebook or Twitter.
Shop online at Nordstrom.com.