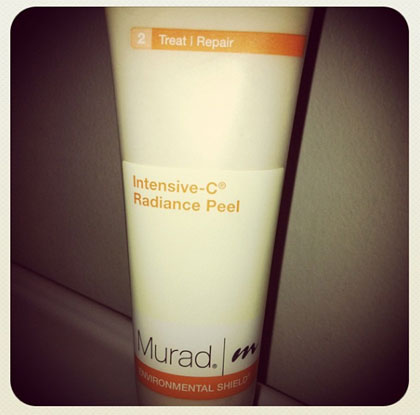 While many beauty products promise it, few actually deliver quick results. That is, until Murad Intensive-C Peel came along. It's a lightweight formula that exfoliates skin and leaves it refreshed, and kind of glowing.
I've been using Murad products for years now. I swear by their Oil Free Sunblock SPF 15 Sheer Tint and Exfoliating Acne Treatment Gel. Murad skin care products provide high quality ingredients and deliver results.
I love a good facial, but that isn't always an option, so I was excited to try Murad Intensive-C® Radiance Peel. It goes on like a moisturizer – lightweight and not greasy. Then, you wait 10 minutes, and rinse off with warm water. Instead of just moisturized and cleansed skin, your skin actually glows. The formula exfoliates dead skin cells without scrubbing. And, unlike stronger glycolic peels, there is no stinging. A simple, no fuss process with mega-results.
How does it work?
• Glycolic Acid exfoliates to accelerate turnover of dark damaged cells, removing dullness and improving skin texture.
• Vitamin C and Indian Fig protect against free radical damage while enhancing skin clarity and luminosity.
• Myrtle Extract supports collagen production to boost youthful resilience and elasticity.
Murad's Intensive-C® Radiance Peel an anti-aging formula will be available online at Murad.com and in stores in April and is $49.50 for 1.7 FL. OZ. I highly recommend it.