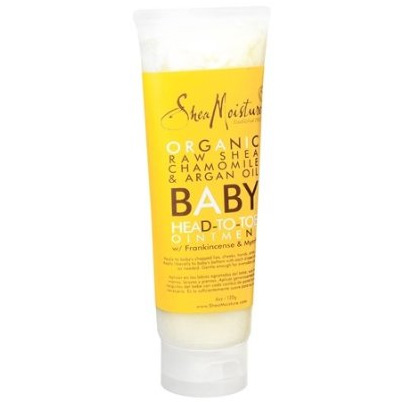 Recently, my 4.5 yr old daughter has requested a nightly ritual of washing our faces together and doing a beauty mask. I am all for implementing a good beauty routine at a young age, but it has gotten me thinking about what kinds of chemicals she might be applying to her delicate skin. My favorite mask has a clay base and I have let her use it, but for a regular routine I would like something more natural.
I love how asking the universe a question often results in a (good or bad) answer – and was really excited when a box of organic skin care products for kids arrived in the mail the other day.
Shea Moisture's new Organic Baby skincare line includes everything you need to pamper baby. The Shea-based formulas have a light, lovely scent and are ultra moisturizing.
My youngest is a typical 2-year old boy. He climbs on everything and is constantly moving. The other day he climbed up onto a little side table and slid down one side to the ground. Though he was smiling, it did result in a scrape on his tummy. I applied some Shea Moisture Organic Raw Shea Butter Baby Eczema Therapy to his scrape and within a few days, it is healing quite quickly.
The Head to Toe Baby Ointment is a must-have for any medicine cabinet. Designed to help combat baby Psoriasis and Eczema, I find it really works wonders on calming little scratches and blisters as well. Baby skin tends to get bumpy, and this formula goes on smoothe and calms those irritations quickly.
Some of the all-natural ingredients include Shea Butter, natural oils and extracts. All the products are free from parabens, phthalates, paraffin, gluten, propylene glycol and other nasty synthetic ingredients.
Available for under $10 at Target.