Happy Holidays! What will you be wearing this New Year's Eve? I love New Year's parties because you can add some extra sparkle and glitz to your outfit, or whatever suits your mood. Here is a bit of new years eve outfit inspiration from some of my favorite designers.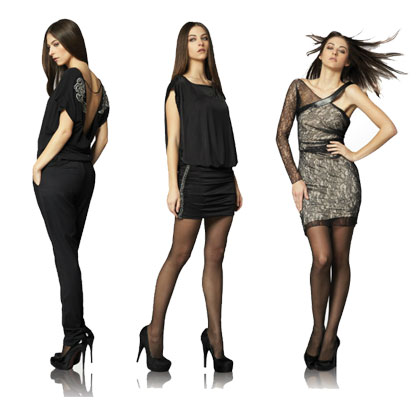 Above: Designer Yoyo Yeung features party-ready looks in her Fall/Winter 2011 collection. Young by Yoyo Yeung is available at Kitson.
1) Bright, sparkly jewels instantly add interest to even the most simple little black dress. The collection from Charme Silkiner features gorgeous gemstones like amethyst, quartz and citrine. You really can't go wrong with her picks in necklaces, earrings or bracelets. Check out this past blog post for more info on the brand.
2) A pendant necklace is a great way to create a focal point of your outfit. The labradorite or black onyx Calais Pendant Necklace from Joseph Mimi feels deliciously luxurious dressed up for a night out, but could just as easily be worn with jeans. Designer Patty Miller's art-director background gives her collection of classic pieces a deep, imaginative feel.
3) Hot Heels Whatever you wear to a New Years party, make sure your heels are fabulous! I'm a flats by day type of girl, so I always love to dress things up for a party. Pour la Victoire is a reliable, go-to brand for strappy sandals and party perfect stilettos. I love the deep wine color of the Hiro suede sandals, lovely with black and metallics. Of course, for a pop of color, cobalt blue is a good choice. A sequin top, some waxed denim skinnies and these Michael Antonio Loveme Suede pumps are sure to make a statement. And for a bold and amazing look, turn to Ruthie Davis for studded and metallic leather heels that are not for wallflowers. She's been dressing the stars for years – More info on Ruthie Davis here.
4) Baubles Finish things off with a chunky cocktail ring in a bright gemstone like the Italian made, blue and silver Florence ring from Rebecca Jewelry. Love!
What will you be wearing this new years?