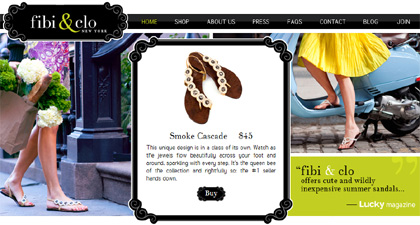 Summer is right around the corner and by now you are probably wearing open toed sandals. I love this time of year! A pretty pedicure and a great pair of sandals are the perfect combo for fun in the sun. I've been loving my new pair of Fibi and Clo sandals that the brand sent me. A mix of jewels and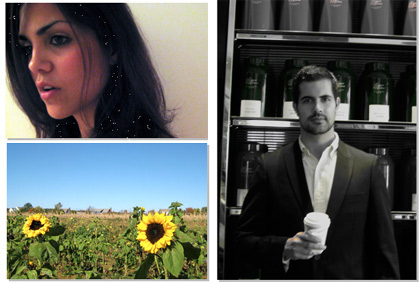 Launching in the summer of 2009, AnaLiza Alba got the idea for Fibi & Clo while brunching with friends. She noticed the inviting and casual atmosphere, and thought about creating a line of sandals that could be sold at trunk shows, instead of through traditional retail channels. Named after her two cats, Fibi & Clo is a collection of stylish and affordably priced sandals. Together with her business partner and fiancé Michael Leen, the two continue to grow the company.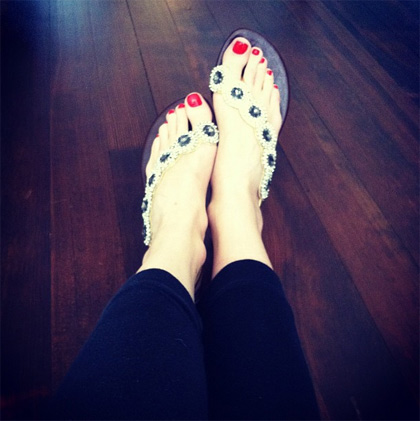 I was excited to receive a pair of their bestselling Smoke Cascade Sandals ($45). Not only are they gorgeously adorned with smokey jewels and pearl accents, but they are amazingly comfortable. Unlike typical flip flops, the design of the cascade sandals allows your toes to rest, no need for them to do any work to keep them on. The strap feels super secure. These are perfect sandals for crusing around town doing errands, shopping or sightseeing. The design is so pretty too. I love the cascading effect.
Fibi & Clo sandals come in a variety of styles from flats to wedges, and are sold exclusively at in-home shoe parties and online at FibiandClo.com.