You know that kind of hair that's made up of millions of fine, thin strands? The kind that has the tendency to, well, get frizzy? Yep, that's my hair. After many years of experimenting with color, cuts, styles and a ridiculous amount of beauty products, I've finally faced that my hair needs product to help it look decent. My hair is not wash-and-go. I try for it to be, but it ends up looking awful and I just pull it up into a pony tail. It needs something to tame frizz and smooth flyaways.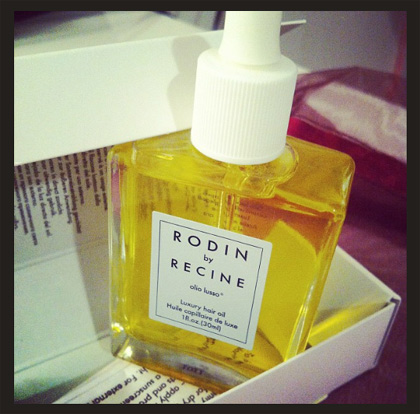 A few weeks ago, I began using RODIN by Recine Luxury Hair Oil after the lovely folks at B-Glowing sent it to me to try out. It's pretty much luxury-in-a-bottle, and has been an essential ingredient in my daily hair help routine.
Before I get into how it works, I just have to mention the packaging. The hair oil came wrapped neatly in fuchsia tissue paper, and included a pink pouch full of beauty samples to try out. Clearly, a little bit of special attention was paid when packing the order. That's important from an online store. I know B-Glowing does this for every customer, because I received the same lovely packaging when I got my By Terry Baume de Rose in the mail. Included in my gift was a flight of summer fragrances and a 20% off coupon! Unfortunately, the discount cannot be applied to RODIN by Recine products, but it can be applied to other items on the site.
So back to the luxury hair oil. The name piqued my interest – how was it luxurious? Why? Well, one reason is that the oil is made up of emollient-packed ossential oils – like apricot kernel, calendula, sunflower seed, sweet almond, neroli, jojoba, rosemary and juniper – which blend into hair creating softness.
After each shampoo, I drop a few drops of oil into the palm of my hand and rub hands together. I apply from ends to roots (damp hair), finishing at my scalp. I haven't tried this yet – but you can also add a few drops to your own conditioner for increased managibility. It can be brushed in to dry hair for a bit of added shine. RODIN by Recine hair oil smells deliciously exravagent, it is well-deserving of it's name.
RODIN by Recine Luxury Hair Oil retails for $65. Find it online at B-Glowing.com.