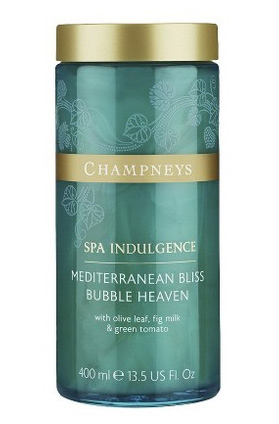 As a busy working mom, little sounds better than a week long trip to a luxury spa…but the reality is, there are dishes to do. Thankfully, Britian's well-known luxury spa chain Champneys is bringing a little slice of heaven stateside. Their line of luxury bath and products is available at Target.
I was able to try Champneys Mediterranean Bliss Bubble Heaven and it is divine. And at just under $13, it's an affordable way to indulge. I love the scent, and the long-lasting bubbles induce relaxation, making it hard to get out of the bath.
The Mediterranean Bliss collection contains fig milk, olive leaf and green tomato and leaves skin feeling smooth and moisturized. The lycopene from the tomato serves as an antioxidant. The entire line of bubble baths, foot scrubs, body oils, and lotions are made from high-quality ingredients, tested and approved by trained Champneys spa experts.
To learn more, visit Champneys.com.