So excited to introduce our new Beauty and Style editor Theresa Johnston! She just tried a new hair care product, and she can't wait to tell you about it. Look for beauty and fashion posts by Theresa weekly!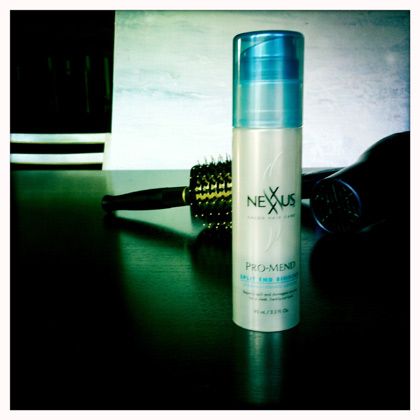 I know. You're careful with your hair. You don't over style it, you don't wash it too frequently, you use an uber-gentle shampoo, and you deep condition regularly. But sometimes, no matter how fastidious you've been, you still end up with a handful of split ends.
Hair experts say that the only way to really get rid of split ends is to cut them off, which is truly the last thing any of us want to hear. Yup, it's totally frustrating— particularly if you're trying to grow your hair out and want to skip a trim or two!
Enter Nexxus' new Pro Mend hair care line. Nexxus claims that these products will bind those pesky splits back together, make your hair look healthier, and help prevent further damage from daily styling.
Utterly intrigued, I couldn't resist giving Nexxus Pro-Mend Split End Binding Straightening Lotion a try. Especially since Nexxus was kind enough to send Skinnypurse a full-sized sample. So, the next time I shampooed and conditioned, I worked a fat pump of the coco-nutty-scented straightening lotion into my towel-dried hair and then blew it dry while using my fingers to smooth and straighten it.
While I can't say that my hair was split-end free, I can absolutely say that my fine hair looked and felt thicker and stronger. Not only that, this product kept my hair smooth, straight, and frizz-free all day long (which is nothing short of a miracle for me). Needless to say, I was quite pleased with the results! Nexxus Pro-Mend should never be a substitute for handling your tresses with serious TLC. However, it's definitely an option for maintaining your hair's health and keeping your style sleek and healthy- looking between trims.
Nexxus Pro-Mend Split End Binding Straightening Lotion is under $12 and available at Ulta.