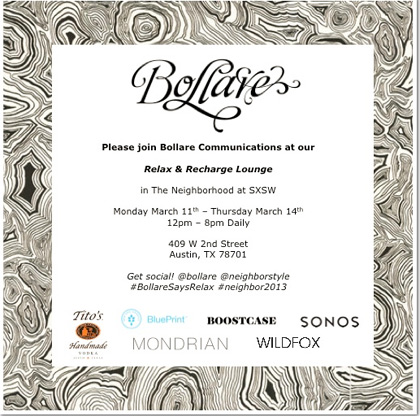 Communication and style firm Bollare has teamed up with AvecMode and 2nd Street District to launch 'The Neighborhood' at this years SXSW. Together, they've created a "style-centric" showcase with the goal of adding elements of style to SXSW, through pop-up shops by emerging and established fashion, beauty and lifestyle brands, panels and Q&A sessions led by industry experts. SXSW patrons have had tons of opportunities this week to enjoy panels, activities and parties, or chill in Bollare's Relax and Recharge lounge – the perfect place to recharge their batteries during the otherwise busy conference. All activities are taking place in a neighborhood like setting around a few block radius in Austin's 2nd Street District.
Daily Q&A sessions have featured leaders in the fashion industry, including menswear designers John Varvatos & Billy Reid, and The Man Repeller's Leandra Medine. Bollare, AvecMode and 2nd Street District are making this SXSW bigger and better than ever with The Neighborhood.
To learn more, visit: SXSW.com.