On any given day, I usually spend the few minutes after pressing the snooze button trying to decide what to wear. I close my eyes and visualize my closet, usually picking one piece as a base, and then building the outfit off of that.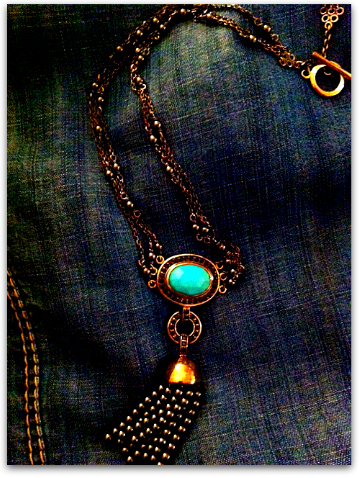 Today, instead of a skirt or dress acting as my outfit 'base', it was a necklace. A sterling silver, hematite, black onyx and turquoise piece from Mayur by SNS Jewelry Studio to be exact. Normally, I wear gold jewelry, but when this one was sent to me, it felt right. An outfit for two occasions stood out.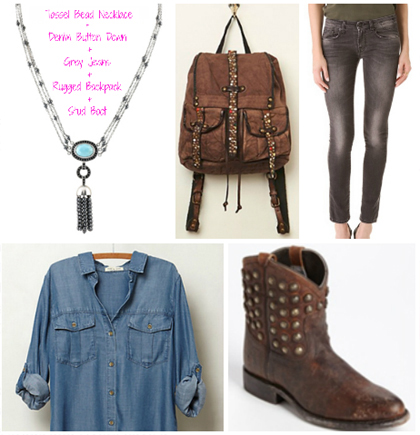 For the first look, I was thinking casual, rugged and distressed. I love a denim shirt with anything, and thought the tassel necklace would go great peaking out from the button down. Paired with washed out grey jeans, studded Frye boots and a super slouchy backpack, the outfit was complete.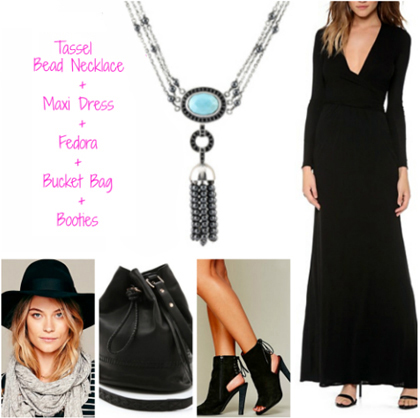 For a bit more of a polished look, I thought the necklace would stand out against a black maxi dress. (Turquoise stones pop against black). Paired with a floppy black hat, cutout heels and a sleek leather bucket bag, this is a great outfit for work or dinner with friends.
About Mayur by SNS Jewelry Studio:
Founded in 2012, brings the family tradition of excellence in gemstones to the field of haute jewelry. The young founders redefine the very essence of fine jewelry by artfully marrying rich Indian traditions with contemporary styles. Each design delicately juxtaposes vintage elements with modern simplicity and elegance, reincarnating the old into vibrant, one-of-a-kind ornaments. custom designs that are set in precious and semi-precious stones and earth elements.
Learn more about the brand and follow updates on Facebook.