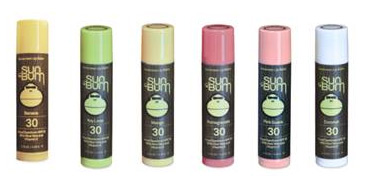 When planning your suncare routine, do not overlook your lips. Delicae skin is a magnet for the sun's harmful UV rays. SUN BUM Flavored Lip Balms ($3.99) are a great way to get total sun protection without piling on sunscreen.
The flavored Lip Balms contain SPF 30+ sunscreen, plus added Aloe and Vitamin E. Apply once and you can be active all day long. Try out a variety of flavors like: Key Lime, Coconut, Pink Guava, Mango, Pomegranate and their most popular flavor, Banana. That's a lot more than your typical balm.
Sun Bum's philosophy is quality, safety, and performance. The company cares about spreading the message that sunscreen is essential. Formulas are anything but heavy, making the process of applying sunscreen easy and effortless.
Find Sun Bum Lip Balms at your local surf shop or Trustthebum.com.