This giveaway has ended. Winners will be announced soon! Thanks to everyone for your submissions! Check back for more giveaways on Skinnypurse.com!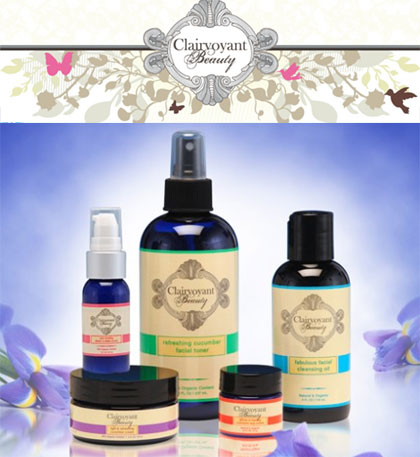 I just had a birthday and have to admit, I'm feeling a little, well, old. I still feel young at heart, but nevertheless, I'm starting to see signs of aging – mainly in the form of tiny wrinkles around my eyes. Sometimes anti-aging products can feel harsh, a bit extreme. So, I was excited to learn about CLAIRVOYANT Beauty, a line of products that use natural ingredients to fight signs of aging.
Created in 2010 by former actress, model and activist Lexie Masterson, CLAIRVOYANT Beauty was born out of a desire to use age-old remedies combined with modern science. Sharing an almost psychic connection with her grandmother Josephine (Gogo), Lexie developed her line of natural beauty products. Formulated in small batches, there is no need for chemical preservatives as with other products.
The line contains a wide selection of scrubs, creams, cleansers and toners, all with lightweight, high-quality formulas that deliver results. I have been using many of the products for the last couple months and have to say I have seen a difference in my skin. My skin is I guess delicate/sensitive in areas but oily in others, so something that can deal with this combination is the only thing that works. I usually try to space out the days between using anti-aging or scrubbing products, but I have been able to use Clairvoyant products every day, without irritation.
They also recently launched a floral-citrus fragrance containing top notes of Bergamot and Lime; middle notes of Rose, Jasmine and Ylang Ylang; and base notes of Tobacco Absolue, Fir Absolue and Green Cognac. As you can imagine, it smells pretty nice! Fragrance is so personal, but CLAIRVOYANT is designed to be layered so you can get the desired intensity of scent. I personally have been loving this on the weekends, when I don't want to wear a heavy perfume. It is also natural, made from Organic corn alcohol.
CLAIRVOYANT is available at ClairvoyantBeauty.com
Giveaway! Win a Spring Forward collection from CLAIRVOYANT Beauty! Update: We are giving away 25 kits! The kit includes:
*Fabulous Facial Cleanser – An oil-based cleanser that draws out impurities and replenishes moisture with absolutely no greasy after-feel. Suitable for all skin types – even oily!
*Refreshing Cucumber Facial Toner – This toner is completely natural – made from the juice of real cucumbers – so the skin drinks in the veggie's long list of healthy benefits with just a few spritzes daily. "As the weather warms up, try keeping this refreshing toner in your fridge," recommends Masterson. "Just one quick spritz cools you down, helps restore skin's balance and refreshes the body and mind."
*Light & Refreshing Cucumber Cream – Packs an additional dose of cucumber's natural salt, enzymes and vitamins stimulates cell growth, strengthens connective tissue and provides hydration all day long without being greasy.
*Gentle & Healing Rosewater Eye Cream – The perfect remedy for skin that needs a little extra help to soften the lines and creases around the eye.
How to Enter: Each one of the below actions gets you an entry. Do one or do them all! Please be sure to leave a comment below to let us know what you did to enter.
*Like both Clairvoyant Beauty and Skinnypurse on Facebook.
*Follow both @ClairvoyantB and @Skinnypurse on Twitter
Contest will be open through Monday, April 30th, 2012. Good luck!