February 10th marked the Chinese New Year, with 2013 being the year of the snake. It is said that Snake years tend to bring change in our lives. I am looking forward to positive changes in my own – perhaps taking on an exciting career challenge, or trying out new style trends. What about you?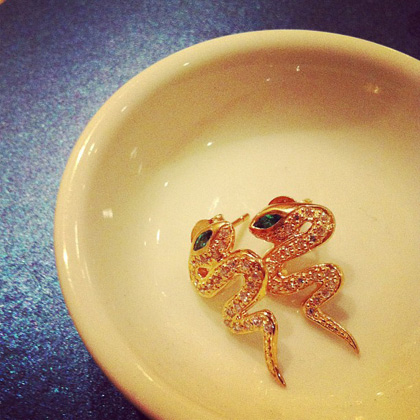 Designer Melinda Maria represents the year of the snake in a stylish way with her snake pave stud earrings. Tiny white diamond and emerald green stones sparkle along gold snake studs. At the same time edgy as they are glamorous, the earrings make a statement in a compact shape that is totally on trend.
Style doesn't stop with the snake. Melinda Maria also designs an extensive collection of gorgeous necklaces, earrings, rings and bracelets created for her muse. Popular with the celebrity set, her designs have been worn by Julianne Hough, Christina Applegate, Lauren Conrad and many more. Each piece is exquisitely crafted using the highest quality metals and gemstones. A Melinda Maria piece makes the perfect gift for yourself or a friend; one that will be treasured for years.
We caught up with the designer as she tells us about her career and inspiration behind the collection:
SKP: Tell us a little about how you got your start designing.
MM: I had a passion for creating artistic jewelry since childhood. I would break apart my mother's jewelry to make my own design. I then studied Gemology and the art of jewelry making, and turned my passion into a global enterprise.
SKP: Where do you get your design inspiration?
MM: EVERYTHING can be inspiring! I walk through my days with my eyes wide open because I can be inspired by so many things that I run into in my daily life. I don't have to be in an exotic place–I can get inspiration from unexpected places, like the produce isle at the grocery store. Shapes, colors and textures in anything can translate into art, so I am always aware of my surroundings.
SKP: How would you describe the Melinda Maria jewelry aesthetic?
MM: I want you to feel glamorous, sexy and unstoppable. My hope is that my jewelry reminds you to sparkle, to follow your passion, and live the life you dream.
SKP: If you had to describe your collection in 3 words, what would they be? MM: Glamorous, sexy and edgy!
SKP: What type of woman wears Melinda Maria jewelry?
MM: I make jewelry that looks and feels real, but remains accessible to women everywhere. I also strive to create jewelry that can be worn by women of all ages. For example, Julia Roberts and her 20 year-old niece, Emma, both wear MM.
SKP: What is your favorite piece from your collection?
MM: It changes daily! Today, it is eight bangles stacked together from different collections.
SKP: What are some jewelry trends that we are going to see in upcoming seasons that will be reflected in your designs?
MM: Big and bold statement pieces—mainly cuffs and earrings.
SKP: What is your current favorite fashion trend?
MM: I don't follow trends 🙂
SKP: What trend would you like to see disappear?
MM: The horrible platform sneaker wedges! There is nothing feminine or sexy about them.
Thanks for taking the time to answer our questions Melinda! (I totally agree on the platform sneaker wedges).
For more information, or to shop the collection, visit MelindaMaria.com.