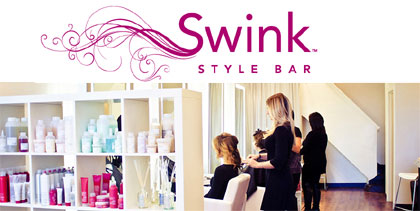 Do you ever wish there were more hours in the day? I am not sure how some people juggle so many things at once, and yet always seem to look like they've had 8 hours of sleep and a personal stylist. Not sure that is, until I discovered
Swink Style Bar
. I had heard of the salon before, and many of my friends are regulars. But I had never tried it out myself.
When the lovely ladies from Swink Style Bar offered me the chance to come in and try it out, I was very excited! As a busy working mom of two, I barely have time to do my hair in the morning, and the idea of a blowout just for fun sounded great. So, last Sunday I visited the Swink Style Bar at University Village. Haley was my stylist and she did a great job explaining the products she used in my hair. I was really happy with the style – she did it all in sections – something I've never been able to do on myself. Not only did she explain how she styled my hair, but she also took the time to explain some other techniques like creating curls with a flat iron. I really appreciated all the tips!
While I was there, I picked up some Moroccan Oil – a hair serum that smoothes flyaways and tames frizz. I have to admit, I'm now a little addicted. I got the small bottle, but wish I got the big one!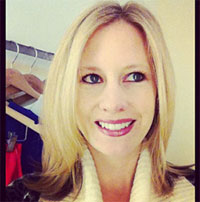 Here is how the blow out turned out. I loved it. (Note: I am in the dressing room at Antrhopologie where I picked up a few goodies – post to follow).
Swink offers a variety of services for the busy woman. Everything from
blowouts
and
dry styles
to
deep conditioning treatments
. You can also go in for
updos, Brazilian keratin express treatments, hair tinsel and feathers
, and more. Swink is a one-stop shop for special occasions. Have not only your hair but your
makeup
done as well as
lashes
! You can get brow and lip
waxes
and even
ear piercing
.
Swink is currently offering a Mommy & Me Drystyle ($55) and Mommy & Me Updo ($75) package. Perfect for moms and daughters under 7. Choose from a drystyle or updo (one for each of you). What a fun outing to spend time together, or get ready for a special occasion together. My 4-year old would love this, she's so girly. And if you have a teen, check out their teen services – Quality bonding and a great time for you both!
Visit the site for more information on services and pricing. For more updates, follow Swink on FaceBook and Twitter.