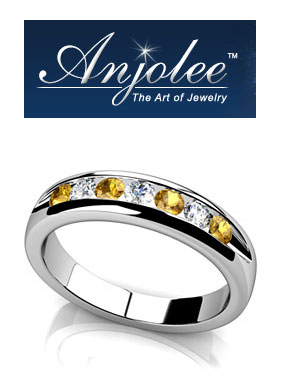 Ever sense I had my two kids, I've been hinting to my husband to look for Diamond anniversary rings. I've been wanting something that has my kid's birthstones in it. When Anjolee Jewelry contacted me about doing a review, it gave me a great excuse to research anniversary rings in more detail!
Shopping for fine jewelry online can be overwhelming. Many times you have to wade through endless styles to find the one you want. Anjolee is a bit different. They are the only jewelry website that offers the ability to customize any jewelry designs to your exact preferences, taste and budget. So, if you already know what you are looking for, you can easily build it on the site. Anjolee specializes in Anniversary rings for women, fine Diamond jewelry and bridal jewelry.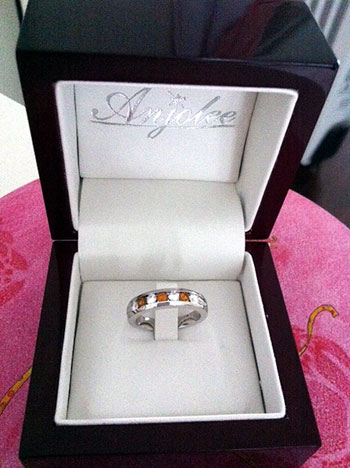 I was sent Seven Gemstone and Diamond Ring in white gold. I love the modern, streamlined design and the look of citrine and diamonds together. (Note: my choices on stones was limited because it was a review, you would be able to choose any combo. Also, I got CZ stones instead of diamonds). The site offers a ton of information to help you design and choose your jewelry. There are 360 views, spec sheet downloads, and an extensive education and buying guide.
I've been wearing the ring by itself next to my ring finger, but this type of ring could be stacked with your wedding ring as well.
Whether you are looking for a holiday gift for a special someone, or something for yourself, Anjolee.com is a one-stop shop for diamonds and fine jewelry!