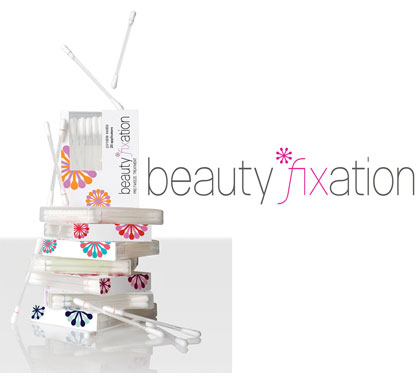 Life is busy. Very few people have the luxury of a personal makeup artist to do touch-ups throughout the day. Most of us get ready in the AM and buzz through the day until we can finally unwind in the evening. Beauty Fixation Portable Swabs let you touch up your makeup and nails quickly and easily throughout a busy day.
The folks at Japonesque, makers of professional makeup supplies, sent me some Beauty Fixation swabs to try, and I am seriously obsessed. With six quick-fix beauty treatments in the set, each pack contains 24 pre-filled q-tip-like swabs in a pocket-sized box. About the size of a makeup compact, each one fits easily into your purse, just right for the woman on the go.
I have heard of make-up remover swabs, which are ideal for cleaning up eye-liner mistakes or for carrying along to a tearful occasion. Beauty Fixation's Makeup Remover/Touch-up swabs are not only good at removing makeup, but very gentle on skin. They also offer pre-filled swabs containing other treatments. I have been using the Tinted Lip Conditioner each morning after washing my face, the subtle tint is just right for looking polished. My lips feel smooth and soft after using the formula. The Lipstick Touchup swabs have a bit of makeup remover to take away lipstick and gloss with the swipe of a hand. (Also, a lifesaver when my 4-year old decided to use my lipstick!)
For nails, their Nail Polish Touch-Up and Cuticle Conditioner swabs keep nails clean and smooth. Finally, the (genius) Pre-Tweeze Treatment for brows is a topical antiseptic to temporarily relieve pain before tweezing or waxing. Definitely bringing this to my next brow wax.
Beauty Fixation packs cost about $5 each and can be purchased at BeautyBar.com.