You've put together the perfect outfit, but need a little something to pull it all together. A scarf is a chic way to create a polished look. Plus, by changing up your scarf, you can change up an entire outfit. Designer Bindya Lulla of Bindya and Lulla Collection scarves created Chic Tweak, a place for you to shop scarves from an array of designers, all in one place. Set to launch later this month, the site will feature brands such as Theodora and Callumn, Echo, Chan Luu, Bindya, Love Quotes, Lulla Collection and Tilo. Put simply, Chictweak.com will easily allow you to "tweak your style" with each scarf you purchase.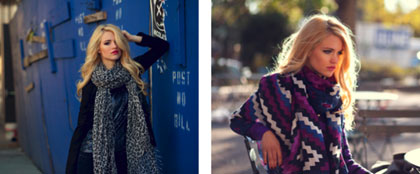 With a designer's eye, Bindya Lulla has pulled together a well-edited selection of the best looking scarves from talented designers, and will be offering an exclusive selection. With the cooler weather, scarves are a natural accessory option. I am looking forward to shopping for scarves as gifts for friends. They are accessories that look great on everyone, and size is never an issue.
For more information and to visit the online store which will be opening later this month, check out: ChicTweak.com.