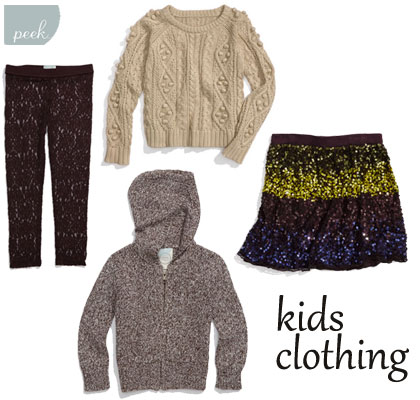 Having a little girl gives me an extra reason to shop. There are SO many cute little girl clothes out there, it can be a little dangerous on the paycheck at times. And since she has grown from an infant to toddler to pre-schooler, there are a handful of brands I keep going back to. The other day I was browsing the kids section at Nordstrom, and came across the Peek Collection. Now I am hooked. Casual separates in muted tones, creative screen printed tees, super soft cotton tees and leggings, amazing knits and the most adorable skirts and dresses. For boys, thermal knit tees, soft hoodies, hipster denim and graphic t-shirts are in the mix. They also have a selection of clothing for infants.
With several stand-alone stores in Southern California, Arizona and Texas, Peek has quickly become a favorite shopping destination for kids clothing. Recently, Nordstrom invested in Peek and is their exclusive retailers aside from their stores. The line represents the playfulness of childhood but is mixed with high quality fabrics and craftsmanship you would expect from adult clothes.
Prices range from $20 tees to coats around $70 and are available at PeekKids.com or at Nordstrom.