Finding chemical-free beauty products can be frustrating. I want shampoo that really cleans, but without the worry of SLS and Parabens. And while I am ok with sometimes sacrificing my health for something gloriously scented, I am not ok with putting chemicals on my kids. I recently learned of a line of hair and skin care products safe and natural for sensitive baby skin.
Free of harsh chemicals and 100% vegan, Original Sprout offers a line of hair and body products that are safe for the whole family to use. The Worry-Free Formulas do not contain harmful PhytoEstrogens – which are linked to gynecomastia, early puberty, hormone disruption & fertility problems.
I was given the opportunity to try a few of the Original Sprout products and definitely want to recommend them to you.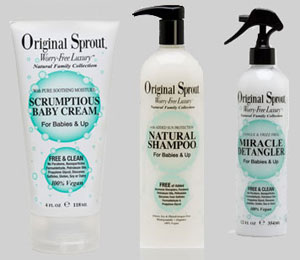 My 3-year old is still sometimes afraid of getting soap in her eyes when we shampoo her hair. The Original Sprout Natural Shampoo is a gentle formula, safe for sensitive skin. Made from organic emollients which not only clean and hydrate, the shampoo leaves hair soft and free of tangles. It also offers sun protection and has color retention benefits, making it great for kids as well as moms. And because of it's tear-free formula, I am not afraid to use it with my daughter. It is specially formulated for sensitive kids who suffer from eczema or dry skin.
Here are some other added benefits:
* Eliminates Cradle Cap
* Free of Hormone Disrupters
* Free of Fruit Extracts & Honey
* For Babies, Children & Adults
* No Citrus Oils (Photosensitizers)
* With Natural & Organic Ingredients
* With Organic Rosemary to Help Repel Lice & Insects
After washing her hair with the Natural Shampoo, I use the Original Sprout Miracle Detangler. It not only smells amazing, but it works to quickly detangle and smooth hair without pulling. Normally, this is an activity that results in my daughter yelling "mom, your pulling my hair!" But using Original Sprout's detangler has actually become a fun experience. I love it because it works on wet and dry hair, leaving it silky, smooth and smelling wonderful.
Here are some benefits of the detangler:
* Biodegradable
* Eliminates Static
* For Wet or Dry Hair
* Protects & Strengthens
* For Effortless Combing
* Gluten, Soy & Nano Particle Free
* E.U. & Prop 65 Certified Ingredients
* Helps Repel & Protect with Organic Rosemary
* Immediately Eliminates Tangles Leaving Hair Soft & Silky
Another beauty item my daughter is a major fan of is moisturizer. Usually, the more expensive, the better. (My La Mer now lives up on the highest shelf!) Original Sprout Scrumptious Baby Cream is something I feel good about letting her use. I know she can slather on a bunch and it is free of chemicals that may harm or irritate her sensitive baby skin. It not only moisturizes and smoothes skin, but it protects as well.
Infused with Natural Zinc to create a protective sun barrier, the cream also contains organic rosemary, helping to repel insects & calm sensitive skin. The formula is non-greasy & smells amazing.
Other benefits:
* Use for Face & Body
* PH Balanced
* For All Skin Types
* Restores Moisture
* Nurtures Sensitive Skin
* Free of Propylene Glycol
* DEA, Paraben & PVP Free
* With Natural Sun Protection
* Free of Estrogen Disrupters
* No Citrus Oils (Photo-Toxins)
* Free of Fruit Extracts & Honey
* Free of Mineral & Petroleum Oils
* No Titanium Dioxide or Nano-Particles
* With Organic Rosemary to Repel Insects
All of the above products have these extra benefits:
* Soy and Gluten Free
* Cruelty Free
* 100% Vegan
* Biodegradable
* Formaldehyde & Keratin Free
* E.U. & Japan Cosmetic Compliant
Original Sprout products are naturally effective with simple, straightforward ingredients and packaging that explains exactly what the products contain. Definitely check out Original Sprout's line. You will not be sorry you did!
Original Sprout Products can be purchased online at OriginalSprout.com or at Amazon.com.