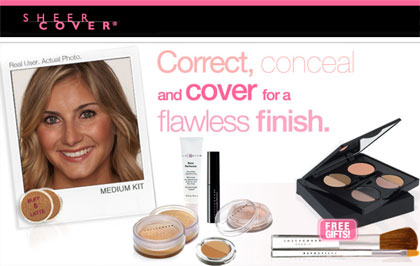 I've been using mineral foundation for about 5 years now, and love it. But as a beauty junkie, I'm always on the lookout for the next best product, trying to find something that can outdo my current favorite. I recently learned about Sheer Cover, by Guthy-Renker, a mineral-based powder foundation, finishing powder, spf and anti-aging protector in one.
I'm a fan of mineral makeup because it doesn't clog pores and is made from natural ingredients. I don't like my foundation to be cakey, but I do need good coverage, so I prefer a loose powder applied with a brush. My favorite is a kabuki brush because it's small and you can get good coverage with it.
Sheer Cover is a lightweight formula that goes on sheer, so you can build up as much coverage as you like. I use a lighter touch for my day makeup, and build up a little more for evening. I like that it feels light on my skin, yet has lasting power. I typically wear an SPF 15 moisturizer and the fact that Sheer Cover foundation has SPF in it is a bonus. No oils and antioxidants mean my skin stays clear and healthy.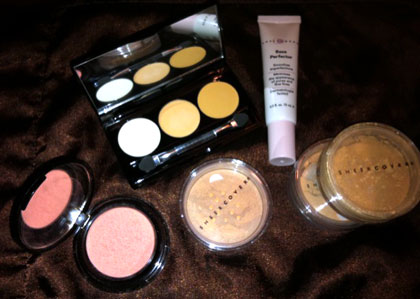 *Sheer Cover Mineral Foundation, Concealer, Base Perfector Primer, Bronzing Tan and Blush courtesy of Sheer Cover*
I tried a few other Sheer Cover products. The Concealer is awesome because you can mix the shades to match your skin tone. It's great for under-eye circles. The blush is a pinky peach that I've been wearing daily. I used the Base Perfector Primer religiously for the first 2 weeks, and loved how it created a smooth foundation for makeup. It is a slightly heavy formula though, so I stopped using it because my skin is sensitive and acne prone. I haven't used the bronzer yet, but will definitely be needing it as the weather cools down and I want to feel tan.
Overall, I am happy with Sheer Cover products! The entire system is available for $29 at SheerCover.com.