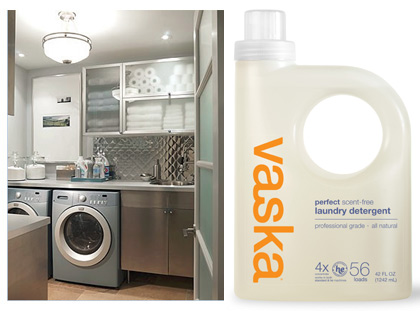 Ever since I had a baby, I've been more aware of the chemical ingredients in everyday products like skin care items and household cleaning supplies. When it comes to laundry detergent, it has been difficult to find something with natural ingredients that really gets clothes clean. Detergents are tricky, because you want them to be strong enough to lift dirt, yet gentle enough so that nasty residue does not irritate your skin. Not only do harsh chemicals found in regular detergents wreak havoc on your skin, they can cause allergic reactions and even breakouts.
About 6 weeks ago, I received a generous sample of a laundry detergent I had never heard of. I've been using it for every load of laundry since, and have to say, it's pretty fabulous.
Vaska is an all natural botanically based laundry care line. I was skeptical when I read the label – the formula uses real herbs to clean. But after the first wash load, I was sold. My clothes felt clean and (also important) smelled lovely. The Perfect Scent Free formula is naturally hypoallergenic, so no worry about skin irritation, or putting harsh chemicals close to my family's skin.
I've been using the Perfect Scent Free version, which does have a light lavendar scent that I love. It's not overpowering at all, but it leaves clothes smelling fresh and clean. I am going to try the lavendar Vaska Herbatergent next. The concentrated formula lasts a long time. I think I have almost half a bottle still (mine said it was enough for 56 loads).
Vaska Herbatergent runs around $10 for a 48 oz bottle (32 loads) and can be found at Duane Reade, Amazon.com and Drugstore.com.