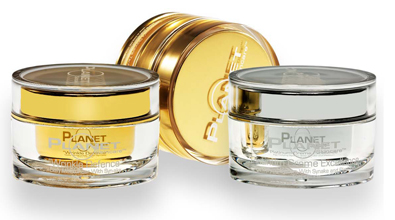 As much as I hate to admit it, I think I am ready for anti-aging products. While inside I feel 22, in reality I am not. However, one way to match the older outside with my younger inside, is to try to keep my skin in shape.
Now, I am not talking anything drastic – there is no botox in my immediate future. I mean topical treatments – cleansers, skin creams, etc. So, when the folks at Planet SkinCare reached out to me to try one of their anti-aging creams, I took one look at my eye area and said, "sign me up!"
Planet Skincare's Platinum Crème Excellence comes in a sleek mirrored jar that is almost too pretty to open. What I love about it is that unlike some anti-aging products, skin doesn't tingle when applied. I use a little dab around my eyes, and some more on my neck at night. The whipped formula is literally scent-free and non-greasy. When I use it regularly, my skin just feels tighter.
So what does the Platinum Crème Excellence do? The Platinum-Peptide based cream is acts like a GPS system – carrying 'active ingredients' through the skin layers to the skin cells, having a direct and prompt impact upon the production of Collagen I and III. It also prevents DNA skin-damage and reduces the signs of aging by increasing elasticity. Using the ingredient Syn-ake® facial muscle contractions which cause wrinkles are dramatically restricted. (i.e.: what Botox® does). In short, this highly engineered (though natural) crème works hard to reduce fine lines and wrinkles, improve skin elasticity, moisturize and improve cell balance.
Planet Skincare Platinum Crème Excellence is not tested on animals (major), is totally vegetarian (bonus) and is vegan friendly (love it). It is available online at PlanetSkincare.co.uk for (£125).