From our Beauty & Style Editor, Theresa Johnston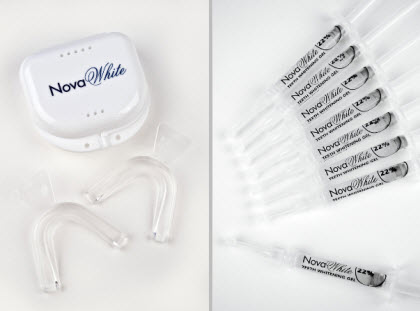 Of course I love anything that stains my teeth: red wine, coffee, tea, and curry to name a few. So I'm constantly on the lookout for low-maintenance, inexpensive ways to keep my smile white. I recently had the opportunity to try a 22% NovawhiteGO at-home teeth whitening system. It's been several (red wine and coffee filled) months since I have done anything to brighten my smile, so my teeth were definitely overdue.
Using NovawhiteGO
NovawhiteGo was pretty easy to use. Prepping the boil-and-bite custom impression trays was a bit tricky but I followed the instructions exactly and was able to get the trays to fit reasonably well. Once complete, I spread a little less than one-half of a syringe on both the bottom and top trays. Then I put them in my mouth and wore them for 1 hour while I folded a basket of laundry and watched an episode of Fashion Police.
The Results?
Nice! After only an hour, my teeth were noticeably whiter. As for sensitivity, NovaWhite is really gentle and I felt very few of the sharp "zaps" I often experience with other teeth whitening systems.
It's official. I'm a NovaWhite fan! I will definitely be using NovaWhite to further whiten my teeth as well as maintain the results I achieved.
The 22% NovawhiteGO kit contains 2 boil-and-bite trays and 3 (1.2ml) syringes. It's available at NovaWhite.com for $54.
Note: I received a sample of NovaWhite for review purposes. All opinions are 100% mine.