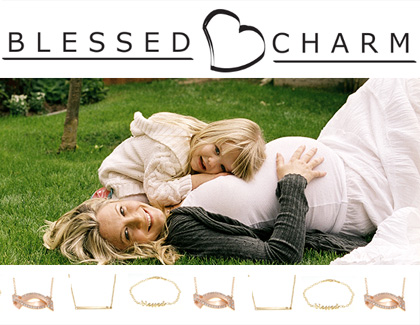 Blessed Charm is a jewelry brand that puts a sense of meaning into every piece. Created by designer Emily Rabinowitz, each style in her collection represents a sentimental connection humans have to each other and themselves. Inspired at a young age to work with fine jewelry, Emily's appreciation for the gifts in her life are brought to life through her designs.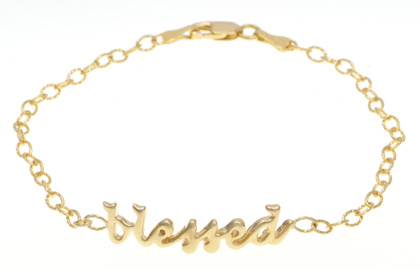 The colleciton features necklaces, bracelets, rings and earrings in simple, yet powerful designs. I had the oppotuntity to check out some of her pieces, and they are quite lovely. I love the juxtapositon of delicate materials like thin gold chains, and powerful messages like "hope" and "change". Her messages are also fun and playful – one of the necklaces daintily states "sugar".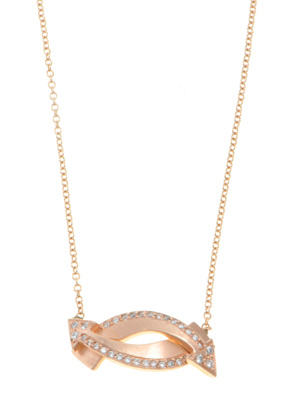 All pieces are hand made in Los Angeles, and are made from the highest quality materials. Prices range from around $50 to $2000.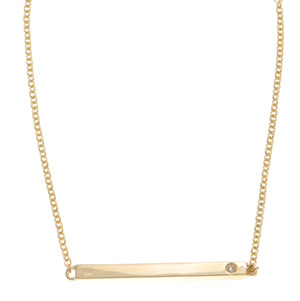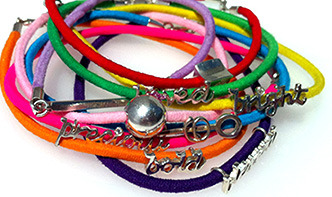 Emily kindly agreed to do a little Q&A for us:
SKP: Tell us a little about how you got your start designing.
ER: I started designing jewelry with my mother. My mom is an artist herself. I used to watch her make glass beads with rods of color glass and a blow torch as a hobby. It never occurred to be then that I would be so blessed to make jewelry design my career.
SKP: Where do you get your design inspiration?
ER: My design inspiration came when I was 21 years old and my mother had dismantled a diamond ring from the eighties (with multiple tiny diamonds), recreated it as a solitaire ring and gave me the little diamonds as my birthday gift and said, "why don't you design something"? I did, and still when I wear the piece today I get compliments and am asked, "did you do that"? Makes me feel like I have always been a "designer", long before Blessed Charm was born.
SKP: How would you describe the Blessed Charm aesthetic?
ER: Blessed Charm is simple, classy, noticeable yet subtle. The designs are unique, but universal.
SKP: If you had to describe your collection in 3 words, what would they be?
ER: Sentimental, timeless, beautiful.
SKP: What type of woman wears Blessed Charm jewelry?
ER: Women who wear Blessed Charm feel a sense of pride in their lives, how they feel about themselves and want to express it to the world.
SKP:: What is your favorite piece from your collection?
ER: Hard question! Blessed Charm offers me the opportunity to have a "favorite" piece anytime I feel connected to it (i.e. Embrace Yourself when I'm feeling confident, Kiss of Karma when I feel something good is about to happen, Life Links when I feel sentimental about my family, etc.). At the moment it's the bezel set cubes because I feel just that subtle sense of sparkle.
SKP: What are some jewelry trends that we are going to see in upcoming seasons that will be reflected in your designs?
ER: COLOR!!! Days of black and white are not gone, but hopefully asleep for a while. Individuality shown through color is in. I HOPE it will stay that way for a long time. Why blend in to the crowd when you can stand out by showing your true color!?
SKP: What is your current favorite fashion trend?
ER: Favorite trend is NO trend. I love that people have really begun to wear what makes them feel comfortable in their own skin. If every woman would wear what represents her personality, instead of what is popular, we'd stop wasting energy scorning people for their "taste" and applauding them for their confidence!
SKP: What trend would like to see disappear?
ER: I'm not crazy about trends that are not universally conscious…not everyone should be wearing trends that clearly were intended for a specific body type or personality. If the trend is dainty, short and young there are millions of women who will not represent that well. If the trend is heavy, long and loud, there are millions of women who will get lost in it. I'd like to see narrow conscious trends become more "human" and less exclusive.
Thanks Emily! To learn more about Blessed Charm and shop, visit BlessedCharm.com.