Seattle just went through an epic snowstorm. After 3+ days of being cooped up inside and wearing leggings and legwarmers (lovingly hand-knit by my mom), I am ready for some brights!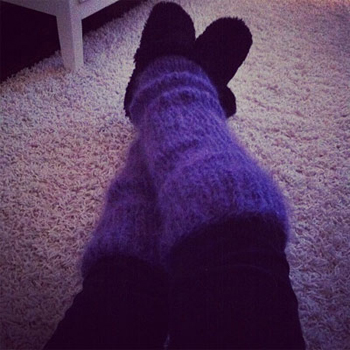 Even though bright colors scream spring and summer, there is no reason to compose your color palette in winter. In fact, wearing bright colors on dull gray days just might brighten your mood. (I'm no scientist, but this has worked for me!)
One color that has pick-me-up powers is orange. Sherbet, peach, carrot – whatever shade you fancy, orange brightens any outfit and lightens any mood.
Some orange goodies I'm loving right now…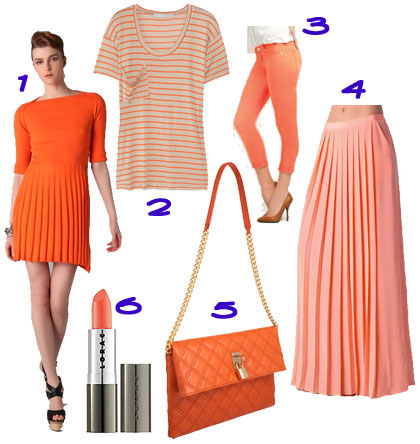 The (1) See by Chloe Ribbed Sweater Dress ($450) is perfect for work. Warm enough for a cool day, but the bright hue lightens the mood. For a casual look, throw on (2) Kain's Classic Striped Modal Shirt ($90) with a cozy cardigan and jeans. Super comfy, yet the bold stripes add a welcome dose of sunshine. David Kahn is known for fabulous fitting denim in a wide variety of colors and styles. The (3) Cuffed Ankle Jeans in Atomic Orange make a bold statement and are totally on trend.
I love (4) this Tibi Maxi Pleated Skirt ($330). The light shade of peach might seem more fitting for Spring, but it's long-length makes it perfect for winter. Wear it with a fuzzy sweater for the ultimate cozy yet pulled together look. A bold bag is always in style. The (5) Marc Jacobs Sandy Shoulder Bag ($575) can be worn as a clutch or shoulder bag, and will be a classic for years to come. Finally, punch up your makeup with (6) LORAC's Breakthrough Performance Lipstick in It Girl ($22). The coral shade is flattering on everyone.
For more Orange inspiration, check out these past posts:
Need for Fall – The Orange Handbag
Color Trend: Orange Heats Up Summer