From our friends at The Find: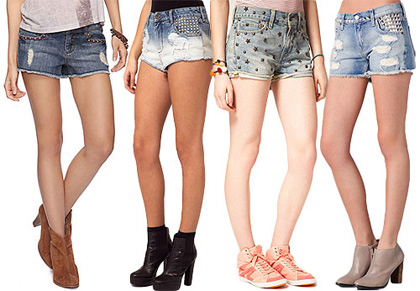 Whether you actually went to Coachella or just lurked on everyone's photos from the comfort of your desk, you're either really glad it's over, or are already going through withdrawals. If you belong to the latter group, don't fret – while some parts of the festival (like the Tupac hologram) may not be available for you to enjoy all the time, you can still let the fun live on in the form of its leading fashion trends. For one, distressed studded cut-off shorts were all over the place – most notably worn by Rihanna, not to mention almost every other fashionable festival attendee who opted not to wear a dress instead. The look is definitely 80s-tastic, especially when paired with this season's neon bright shades, so embrace the look with a pair of platform boots or western booties as you hit up the season's outdoor concert scene and inevitable barbecue festivities. It's fun and summer-festive, and just a tad bad-ass without looking like you take yourself too seriously. If you're not crafty enough to fashion your own pair of shorts from reject jeans in your closet (though I'm sure it's possible!), check out my round-up of bedazzled cut-offs shown above!
From left to right: Forever 21 Studded Denim Cut-Offs, River Island Studded Denim Hot Pants, Levi's Studded Shorts, and TEXTILE by Elizabeth and James Studded Ruby Shorts.
– Alexandra Gambardella