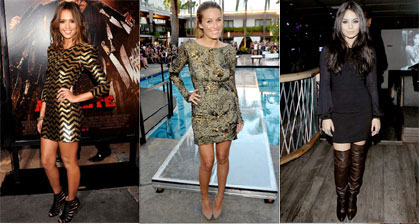 *Jessica Alba, Lauren Conrad, Vanessa Hudgens*
There is no question that long-sleeved mini-dresses are hot this season. Celebrities like Jessica Alba, Katy Perry and Kristen Stewart have all been seen rocking the trend. There is nothing like a mini-dress to make your legs look miles long. And while it's sexy to show some skin, we love the look of a long-sleeved mini-dress. Short enough to elongate legs, but still covered up on top. The look is a bit 60's retro, but modernized by interesting fabrics and cuts.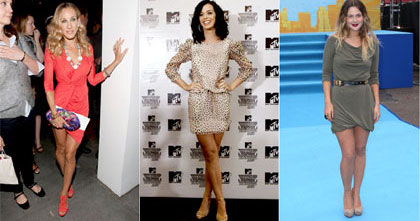 *Sarah Jessica Parker, Katy Perry, Drew Barrymore*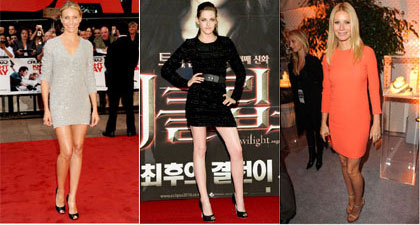 *Cameron Diaz, Kristen Stewart, Gwyneth Paltrow*
Metallic panels give this (1) Mike Gonzalez Bourdin Silk Pyramid Jacquard Dress, $304, a futuristic feel that would be perfect for your next cocktail party. Navy sequin stripes dress up (2) Tory Burch's Athazer Dress, $595. The nude fabric and body-con fit of this (3) M Missoni Crocodile Intarsia Mini Dress, $595, is meant for the daring. But when paired with opaque tights and ankle boots, it gets a bit more wearable. Lace adds a romantic touch to the (4) Valerie Dress by Rachel Rachel Roy, and at $139 + an extra 30% off, it's affordable too. Would look great paired with a pair of tough motorcycle boots. 3D fabric takes the (5) Luc by Lucy Wave Wynona Dress, $88, to a whole new level, and the jewel-tone hue is so luxe. Finally, (6) Opening Ceremony's Tubular Mini Dress, $345, is a more casual take on the sweater dress. We'd live in this and wear it alone or with leggings.
What's your take on this trend?
*Celeb images from eonline.com*